Mayor offers solutions to improve quality of life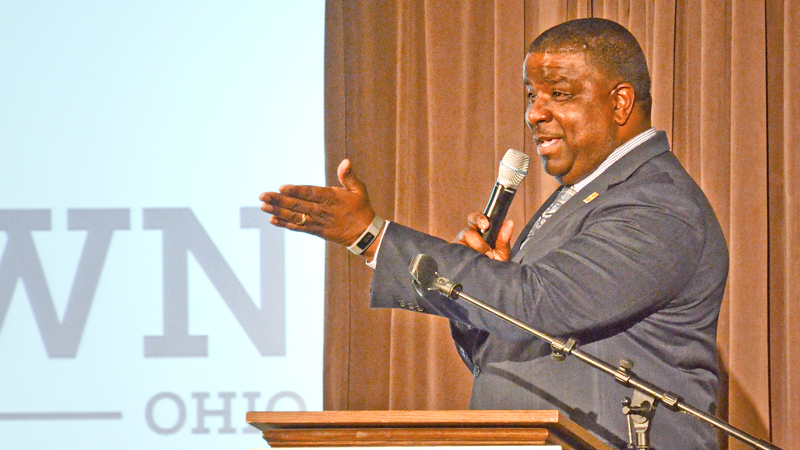 ---
By DAVID SKOLNICK
skolnick@vindy.com
YOUNGSTOWN
Mayor Jamael Tito Brown said two relatively simple solutions will improve the quality of life in Youngstown: cleaning up the corridors and making sure streetlights are working.
"I want to make the city safer and brighter," he said during the Youngstown/Warren Regional Chamber's Good Morning, Youngstown breakfast Friday at Stambaugh Auditorium. "I want to turn all our streetlights on. I want Youngstown to be bright. I want it to be clean."
Brown also said he wants to build relationships and grow others with people and businesses to improve the city.
"If you want to do business in the city of Youngstown, the doors of city hall are open for business," he said. "I'm excited about the partnerships we're creating in the city of Youngstown."
Also speaking at the breakfast was Eric Ryan, president of JAC Management Group, which will manage the downtown amphitheater that will open in spring 2019.
The amphitheater and a riverfront park will be built on 12 acres along the Mahoning River from the South Avenue Bridge to just west of Hazel Street at the former Wean United site. The amphitheater will be on property that includes the former Wean site on South Phelps Street.
"We wanted a riverfront park and amphitheater to have community events," Ryan said.
The entire project, he said, will cost about $10 million with the amphitheater holding up to 4,500 people and start construction about June 1.
The Youngstown Foundation donated $3 million to the city for naming rights to the amphitheater. The city also expects to sell additional naming rights and other sponsorships for the facility.
The city is borrowing $4 million from its federal Community Development Block Grant funds for the project to be paid over 20 years with an interest rate of 2.59 percent.
Also, the city plans to use water, sewer and environmental sanitation funds for the project, primarily to replace one of its largest and oldest sewer lines that runs through the park and amphitheater location.
"This project has turned out to be so much more than we envisioned," Ryan said. "It's going to mean so much for downtown. This is going to transform, even more, the renaissance of downtown."
Another speaker at the chamber breakfast, Krish Mohip, chief executive officer of the Youngstown school district, said he is working to change the educational culture at the school system.
"We have to do things that always put children first but might make adults uncomfortable," he said.
What has happened to Youngstown students over the years is "abusive," Mohip added, pointing out that 95 percent of school districts outperform Youngstown.
"We have to work to continue our growth," he said. "The work of school transformation is messy."
More like this from vindy.com