LaRosa begs court for 'second chance in life'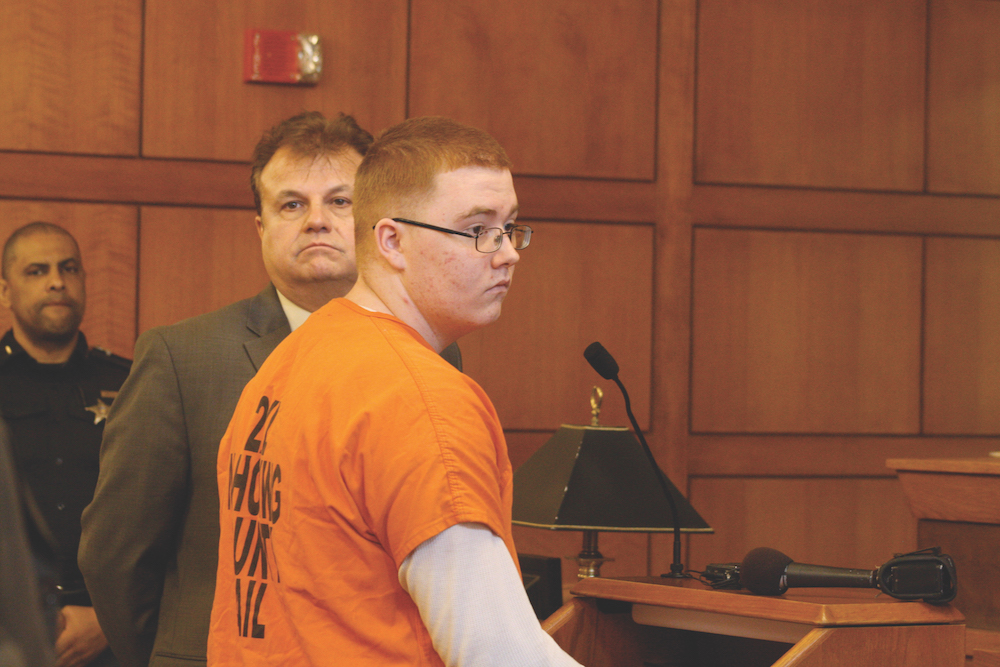 ---
By ED RUNYAN
runyan@vindy.com
WARREN
Karen Kirk, daughter of Marie Belcastro, said a young Jacob LaRosa once "sat by my mother's side on her front porch, where he received my mother's full attention and kindness."
Yet three years ago, he killed, robbed and tried to rape her.
"What type of human being could do these things to a sweet, kind, loving, fragile 87-pound, 94-year-old woman? What kind of human being repays kindness with unadulterated evil acts?"
Kirk and her sister, Deborah O'Leary, both gave victim impact statements Friday in Trumbull County Common Pleas Court at the end of a hearing designed to give Judge W. Wyatt McKay the information he needs to sentence LaRosa, who was convicted in February. The judge will decide on LaRosa's punishment in about a month.
LaRosa was convicted in February of killing Belcastro on March 31, 2015, in her home on Cherry Street in Niles.
LaRosa also spoke Friday, apologizing and saying he has changed over the last three years.
"I am sorry for what I did and I hope and pray that the Belcastro family and everyone else can reach down in their hearts and forgive me," he said.
"I made so many wrong choices and hurt so many people because of the choices and addiction I had. It deeply hurts me to think of all of the horrible things I've done to my family and the people I live around," he said.
"I am a new person that God wants me to be, and especially the courts and my family. I am begging the court to please give me a second chance in life."
Kirk said she can forgive LaRosa, but "it is my belief that Jacob LaRosa is incorrigible and unredeemable. He needs to be locked up for life, not just for punishment, not just just for example, but more importantly to protect society from evil, from his predatory nature. He cannot be allowed to roam the streets ever again. I pray for a life sentence without parole."
Kirk said LaRosa's actions not only hurt her mother's closest family and friends, but many more.
She said it frightens her to think even of the effects on Belcastro's great-grandchildren. "He took away their innocence. He demonstrated beyond all doubt that pure evil exists and is running the streets. ... Will they forever be fearful and suspicious of other people? Will they be capable of empathy or friendship, of love? Will they ever be able to trust other people?"
O'Leary said "Mom's whole community has suffered. Her dear friends, her church community. her extended family and friends are grieving still."
"My mother loved love life and was very productive. She hated appointments that fell in the middle of the day because she said she couldn't get much done," O'Leary said. "My mom loved her home, her safe haven," she said. "The anguish she must have felt as she was violated in every way, robbed of her life and stolen from us. At times I'm still in disbelief."
It was hard enough to process the shocking nature of her mother's death, but the damage to her body made it impossible to have an open casket.
"We were denied the opportunity to say a proper goodbye," Kirk said.
Among the final witnesses Friday was Kaela Grammer, LaRosa's older sister.
Grammer said it was difficult for her and her brother growing up in their home because of the lack of contact they had with their biological father and not having someone to talk to.
"I always was angry and depressed," Grammer said. "I couldn't understand why I couldn't have a relationship with somebody."
She said her brother hung around with a bad crowd of people.
"My brother needed more attention than he could get," she said.
"I think he wanted attention from people even if it was bad."
More like this from vindy.com