Hannity vows to bash Kimmel until he apologizes to 1st lady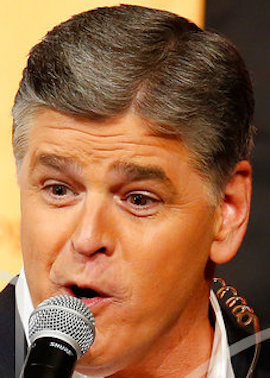 Photo
NEW YORK (AP) — Fox News Channel host Sean Hannity is vowing to continue his attacks on ABC late-night comic Jimmy Kimmel until Kimmel apologizes for a segment in which he joked about first lady Melania Trump's accent.
The dispute between the television personalities is unusually vitriolic, with Hannity calling Kimmel a "sick, twisted, creepy, perverted weirdo" during his Fox show on Friday. Kimmel, who had no show of his own on Friday, returned fire via Twitter.
ABC officials had no immediate response to a request for comment on Saturday.
With late-night comedy almost uniformly opposed to President Donald Trump and political talk dominated by conservatives, Kimmel and Hannity were playing to their audiences. The root of this flare-up was a Kimmel segment on his Monday show in which he played a film clip of Melania Trump, who was born in Slovenia, reading to children at a White House Easter celebration and mocked her accent.
"Dees and dat," Kimmel repeated, with a laugh.
Kimmel turned to his show sidekick, Guillermo Rodriguez, and said, "you could be first lady of the United States."
That angered Hannity, cable television's most fervent supporter of the Republican president.
Hannity's initial attack on Kimmel, calling him an "ass clown," was enthusiastically countered by Kimmel, who said Hannity was the "whole ass circus."
"Game on," Hannity said on Friday.
More like this from vindy.com