GM says cars are still important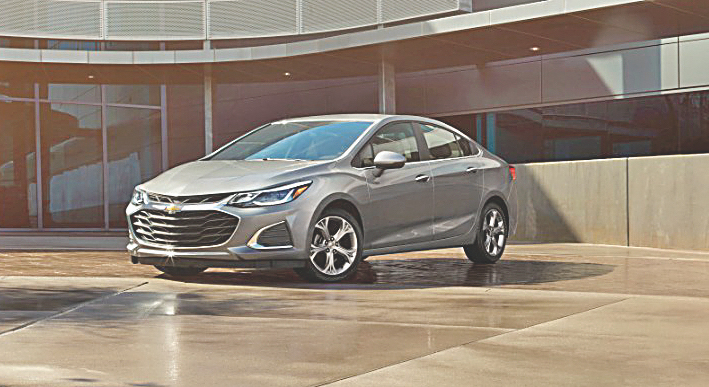 ---
AUTOMAKER UNVEILS 2019 LORDSTOWN-BUILT CRUZE
By Kalea Hall
LORDSTOWN
Despite slumping auto sales, Chevrolet says cars, including the Lordstown-built Cruze, are important to the automaker.
"Cruze is a cornerstone of Chevrolet's car strategy, bringing new customers to the brand," said Steve Majoros, Chevrolet marketing director for Cars and Crossovers, in a statement.
Chevrolet unveiled the 2019 Cruze sedan and hatchback Friday. The hatchback is built in Mexico.
The new Cruze will hit dealer lots later this year with a restyled face and new features.
In 2017, 53 percent of Cruze customers were new to Chevrolet. Cruze sedan and hatchback sales were 184,751 in 2017, down 2.2 percent from 188,876 sold in 2016.
"Cruze has been so successful at attracting new buyers to Chevy because its lineup offers something for every customer, from body style to fuel choice to trim and design," Majoros said in a statement.
But the Cruze sedan has been hit hard by consumers shopping more on the utility and truck side. The trend led to the loss of the third shift at the GM Lordstown Assembly Plant and more than 10 production down weeks in 2017.
The losses have led to concern about the future of GM Lordstown where 3,000 work.
Then, on Friday, Chevrolet announced how it is strengthening its car lineup of the Malibu, the Cruze and Spark.
"We are committed to offering consumers a full lineup of products with fresh designs, new technologies and efficient powertrain options," said Brian Sweeney, U.S. vice president of Chevrolet, in a statement. "The investments we have made in Spark, Cruze and Malibu will help position the brand for success in competitive segments that still make up a significant part of the total industry."
Glenn Johnson, president of United Auto Workers Local 1112 at the complex, said the announcement reassures GM Lordstown workers they are doing the right things for the right reasons.
"It really shows the commitment of the company to keep Chevy Cruze in its lineup and to provide job security for the team members here in Lordstown," Johnson said. "Any time that your company keeps doing things to keep the product fresh and customers enthused it is a positive note for our team."
Earlier this week, The Wall Street Journal reported that Ford plans to stop making the full-size Taurus and Fiesta and that GM is considering ending production of the Chevrolet Sonic and Impala.
In June 2017, Ford said it would shift its production of its compact car, the Focus, to China in 2019.
Fiat Chrysler Automobiles stopped building the Dodge Dart in October 2016 and the Chrysler 200 in December 2016.
"We think it's refreshing that GM is saying they want to compete in that segment," said Ivan Drury, senior analyst for Edmunds.
Analysts believe GM recognizes how it can benefit from how other American automakers are responding to the trend away from cars.
"If you are a current car owner and looking at what's going and your brand isn't available anymore, GM will be your next vehicle [brand] to look at," Drury said. "Just to hear GM say 'We are going to continue to invest in our small-car lineup' it should help some people sleep better at night."
More like this from vindy.com