Spartan Stadium Project benefactors honored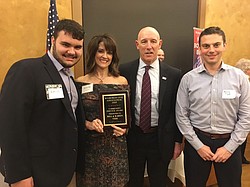 Photo
Neighbors | Submitted .Bill and Karen Veri were awarded the Boardman Civic Association's Community Service Award. Pictured are, Karen Veri with son Anthony, Boardman Schools Superintendent Tim Saxton and Booster President Bruce Flyak.
Boardman residents Bill and Karen Veri are this year's recipients of the Boardman Civic Association's Community Service Award. They have donated a total of $270,000 to the Spartan Stadium Project and are the largest sole contributor to date.
Karen accepted the award at the civic group's Annual Community Awards Dinner at the Lariccia Center on Feb. 22. Bill was out of town, but Karen was accompanied by several family members, including their son, Anthony, who is currently a sophomore and band member at Boardman High School.
"When we consider the Community Service Award, The Boardman Civic Association looks for the humble and generous nature that comes so naturally to the Veris," said Mark Luke, Civic Association member and emcee for the event. "It is the very nature of service that brings us here tonight, because on two occasions the Veris have generously supported the Spartan Stadium Project. They leave a lasting impact and legacy to be used and enjoyed for years to come."
In 2016, the couple donated $150,000 to build the band shell and then in the fall of 2017, they announced an additional donation of $120,000 to jump start the third and final phase which will include a concession stand, locker rooms and restrooms.
More like this from vindy.com