Puppet show at Dobbins teaches students about bullying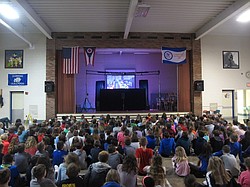 Photo
Neighbors | Zack Shively.Sadecky's Puppets are a nonprofit educational entertainment organization from Pennsylvania who have several shows to perform for students. At Dobbins Elementary, Will Foster and Kevin Stimeling performed the anti-bullying show, "Good Fortune."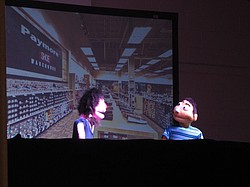 Photo
Neighbors | Zack Shively.Sadecky's Puppets visited Dobbins Elementary on Feb. 28 to deliver a story about bullying and kindness. The story followed a boy named Benny Fortune and his transformation from an inconsiderate person to a helpful, kind boy.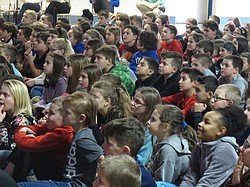 Photo
Neighbors | Zack Shively.The students at Dobbins Elementary waited excitedly in the school's auditorium for the puppet show to begin. They were engaged with the story throughout and enjoyed the humor and message.
By ZACK SHIVELY
The Dobbins Elementary students waited excitedly in the auditorium for a presentation by Sadecky's Puppets on Feb. 28.
Sadecky's Puppets, a nonprofit educational entertainment organization, gave an anti-bullying show with a focus on realizing the way one treats others. Will Foster and Kevin Stimeling performed the puppet show for the students.
Stimeling said he enjoys working with the group because the process of setting the show up and moving the equipment for the show is like a blue-collar job, but then he gets to provide a happiness to children.
The students cheered and chanted for the puppets as they awaited the presentation to begin. Foster introduced himself and the show and then went behind a black wall they had set up.
The group had the large black wall set up for them to be behind while moving the puppets. Behind the puppets, they had a large projection screen to show the setting of each scene. They also had lights for their presentation.
Their show, called "Good Fortune," followed Benny Fortune and his daily life. He started the presentation as an inconsiderate person, but he became a much nicer child after a fortune cookie changed the way he thought about how he treated others.
He began to help out the other characters in the story. He had been mean to many of these characters before his change. Near the end of the story, he talked to the bully and made the bully change for the better, too.
Isabella Zamaria, a fourth-grade student at the school, said she enjoyed the show because it had a good message and made her laugh. Third-grade student Mark Len said that he liked when the main character stood up to the bully.
After the performance, principal Michael Daley spoke to the students about kindness. Benny Fortune did not care about the way he treated one character because he figured he would never see the character again, which turned out to be wrong. Daley spoke on this idea, saying the students should be nice to everyone.
More like this from vindy.com