East High hosts School and Family Partnership Brunch
YOUNGSTOWN
"Communication is key" was the resounding message from Thursday's Reimaging Parent-School Relationship Brunch at East High School.
"There has got to be an understanding on both ends, between parents, teachers and students," said Pastor Lock Beachum Jr. of Victory Christian Center in Liberty.
Pastor Beachum and Judge Carla J. Baldwin of Youngstown Municipal Court were the keynote speakers. Joining them was a panel of city school district employees such as Roshay Huff, ninth-grade academy principal; Jerrald Fordham, former substitute teacher; and Adam Loudin, East High teacher. Also on hand was Councilman Julius Oliver, D-1st.
In late 2017, the Youngstown City Schools received a $249,500 federal School Improvement Grant through the Ohio Department of Education to improve family and community engagement at East High School.
East High School's Destination Imagination Skit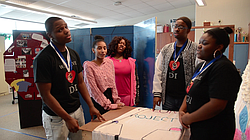 Video
Five East High School students will be competing against other countries acting out a "Destination Imagination" skit. The group's message is anti-bullying themed. The group consists of Talasia Vazquez, 9th grade, Kaysonn Madison, 10th grade, Santajah Douglass, 10th grade, Brianna James, 11th grade, and Marquan Stevenson, 11th grade. The group is advised by Ms. Jeanne Constantino. Video by Scott Williams - The Vindicator
Pastor Beachum told the roughly 75 parents in attendance that it is up to parents, teachers and students to understand strains in home situations and the resulting behaviors at school. Understanding these allows everyone to investigate, analyze and have patience with a situation affecting a student's overall success, he said.
"Your role with children and your relationship with their teachers is imperative," he said. "You must have it."
Another facet parents must use, Pastor Beachum said, is online access to monitor their child's success.
"Because of this access, there's no excuse to not be in the loop because there are so many things available to [parents] and that involvement is key to children's success," he said.
And finally all the facets of successful communication in the district come full circle with investment, Pastor Beachum said.
"If you do all of those things, we will get to investment in children and investment in education, not only today, but within these years to come," he said. "Rather than make excuses, there are times in life where you have got to make adjustments."
East High Principal Sonya Gordon said simply: "We have the potential to be great."
Parent Carolyn Harvey said she's impressed with the district's forward strides in communication and behaviors.
"I was really reluctant to send my son here [to East High], but [the district] really has assured me of the changes they have made here. You can just tell," she said.
More like this from vindy.com