Reverend implores people to continue MLK's fight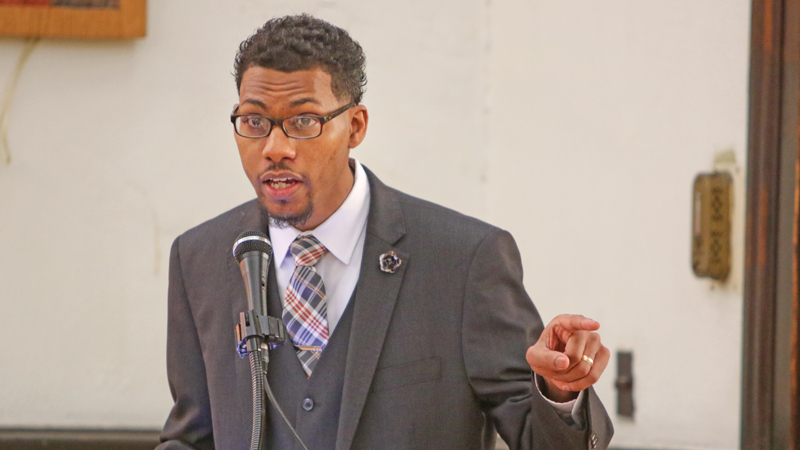 ---
By Justin Wier
YOUNGSTOWN
Fifty years after the assassination of Martin Luther King Jr. outside a Memphis hotel room, the Rev. Todd Johnson had three words for those gathered in Youngstown to commemorate the event.
"We cannot quit," he implored the crowd.
The Rev. Mr. Johnson, of Second Baptist Church in Warren, delivered a keynote address to about 100 members of the Youngstown community – including political and religious leaders – who attended a luncheon titled "MLK 50 years later: Where do we go from here?" at First Presbyterian Church on Wick Avenue.
"We must fight," Mr. Johnson said. "Dr. King died fighting, and I dare not live not fighting."
Mr. Johnson, who is 35 and a third-generation reverend, referred to himself as someone "who didn't march in the streets but who heard the story."
He told those gathered that they must remember what King stood for, acknowledge the work that remains to be done and fight to make King's dream a reality.
Mr. Johnson asked the people to look past the sanitized version of King celebrated today to a man Johnson described as "unpopular, unheralded and often opposed" in his day.
"He was not a cartoon character," he said. "He was not a painting on the wall."
He drew attention to those who deliver speeches or attend memorials to celebrate King but attack modern activists who follow King's lead, including Black Lives Matter and the students who organized the March For Our Lives in Washington last month.
"They say, 'There must be a better way,'" Johnson said. "Then they'll come back in January and say, 'Oh, what a great man.'"
He said many people in King's time, including some in the black community, told him there must be a better way to accomplish his goals.
The Rev. Gena Thornton, who emceed the luncheon, also drew attention to the kids who led the March For Our Lives as she welcomed the crowd.
"Fifty years almost to the day, I saw young people – children as young as 11 – move to the front of the line as leaders," she said. "They are the fruit of Martin Luther King Jr."
As for the work that remains to be done today, Mr. Johnson cited police brutality, attacks on voting rights, the failure of urban schools and economic injustices that often disproportionately affect minority neighborhoods.
The crowd rose to its feet and cheered as he implored them to take to the streets as King did.
"We must fight," he said. "Nothing less than a fight will win a battle like the one we're in."
More like this from vindy.com