Reduce runoff, protect water quality with green roofs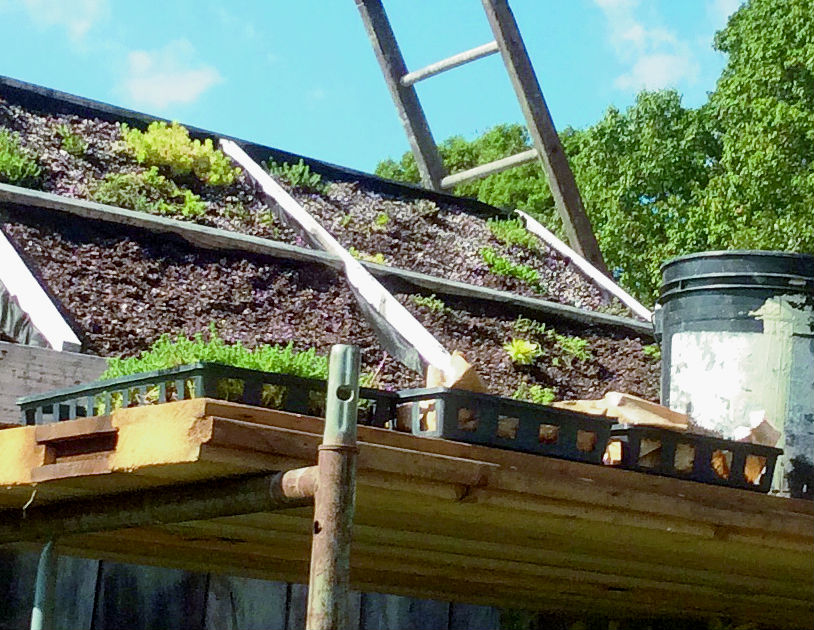 ---
By Margaret Biroschak
OSU Ext. master gardener volunteer
Whoa. What a winter. But spring is here. A green roof project takes a little planning, so it's perfect to start thinking about it now.
On some of my various gardening travels, I had been noticing more green roofs.
Some were designed for pizza gardens on oven roofs. Some were for grasses. Some for herbs and perennials, some for alpines and some totally for esthetics.
Having a metal roof on our potting shed, and being a sedum/succulent fiend, I started doing some reading and making plans.
There are many purposes for green roofs. In the city, they are used for expanding green spaces, water retention, space utilization and helping clean the air in our environment.
They can be massive installations, with a myriad of purposes such as esthetics or production, or just very small and intimate for those of us looking for a new gardening experience.
They are just plain fun, in addition to having an environment for special growing needs.
I guess they could be considered a folly in some instances, but that is another subject.
For my small roof of about 6-by-9 feet, I decided to do a simple application for sedums/succulents.
This was good for me because they were zone hardy and drought-tolerant, two things I thought the green roof should be.
In larger and flatter settings, they can be designed for trees and shrubs, or in a smaller setting grasses, herbs, and perennials.
You are only limited by the depth of your growing space and your imagination.
We built a 6-by-9-foot frame on top of our existing metal roof. This was not really doable for a gardener/housewife and a pipeline welder, so we enlisted the help of a professional carpenter (name withheld to protect the innocent), who made it simple.
He used cedar 1-by-6-inch boards to create a raised grid on the roof, divided by six 21/2-by-3-foot boxes on each side.
Because of the way it was designed, we didn't really have to worry about water drainage, but this is a serious consideration when making your plans.
We then lined the bottom of each box with heavy 1/4-inch chicken wire, folding and nailing them in place.
We topped each box with a layer of landscape cloth, laying it across the bottom and up the sides and stapling it to hold the growing medium.
Because I decided to grow sedums, I was able to use this depth, as the soil needs to be rather lean.
If you decide to create a space growing more productive plants you need more planter depth to support a richer growing medium.
Having done a little research, I was ready to fill and plant my boxes.
My husband set up a section of scaffolding so I could access my area.
I began by filling one box with soil and planting the succulents.
If you plant sedums you know they don't need a lot of nutrition, so I created a mixture of soilless potting medium, perlite, and sand, about 60-30-10.
You have to figure out what you are going to plant, and create the soil accordingly. In different areas of the country your mixes have to change with what is available to you.
I started with the top boxes, filling and planting them first. I found out if you start with the easy boxes on the bottom, you have to kneel in them to plant the top. Dah.
One of the most important parts is choosing your plants. There are zone 5 sedums (our zone) and there are many that are not meant for zone 5.
I choose upright, creeping, and clumping sedums in various shades of greens, reds, golds and silvers alternating the different growing habits and colors.
I then gave them a little water to settle them and start them off.
Having planted the six boxes we then covered them loosely with a sheet of bird netting and stapled it in place. This helps hold them in place until they are able to start sending out roots.
So, on to the other side.
I then sat back and watched them start to acclimate to their new home and start to expand. I cannot wait for the summer to see what beauty awaits on my own green roof.
Green roofs are just one way to reduce runoff and protect water quality.
For details on other things you can do, go to http://go.osu.edu/reducerunoff.
More like this from vindy.com