ODOT, state patrol team up to tackle distracted driving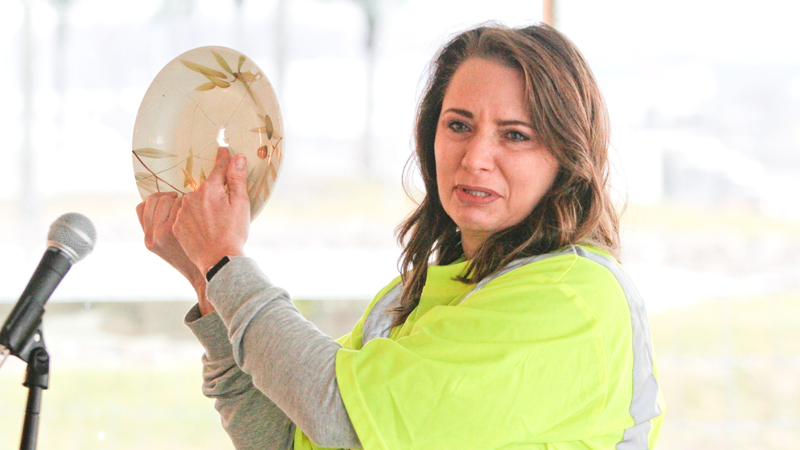 ---
By Joe Gorman
AUSTINTOWN
With the roar of traffic in the background Tuesday, officials from the Ohio State Highway Patrol and Ohio Department of Transportation announced the formation of the first Distracted Driving Corridor in the state.
The goal of the corridor, which stretches from Interstate 76 just east of state Route 534 to Interstate 80 just east of state Route 193, is to reduce the number of crashes caused by distracted driving.
This stretch of 17 miles from western Mahoning County to eastern Trumbull County was picked for special attention because of the number of accidents caused by distracted driving. Since the beginning of 2016, there have been three fatal crashes and 127 other crashes on this stretch of highway.
While the speakers for the state rattled off numbers of how many accidents and injuries there, Tina Yanssen spoke of how distracted driving takes a human toll. Her father, Dave Muslovski, 55, was killed in June 2010 as he was walking near his Springfield Township home by a woman who was texting at the time and ran him over.
Yanssen said her father's death is a loss her family still feels. She held up a broken plate that was glued and taped together with a hole in it. The hole, she said, was the hole left by her father's death.
"There's a giant hole in our hearts that will never be filled," Yanssen said.
Distracted Driving Prevention

Video
A Distracted Driving Prevention has been instituted
In the corridor, ODOT will be placing signs reminding people not to text and drive and troopers will be taking advantage of federal grant money by running extra patrols to watch for signs of distracted driving. Lt. Jared Sutton, head of the Canfield Post of the patrol, said at a news conference at the Park and Ride facility at Interstate 80 and state Route 46 that texting while driving is a state offense. For now it is a "secondary offense," which means a person can only receive a citation for that offense if they are pulled over for something else, such as speeding or not wearing a speed belt.
John Picuri, ODOT District 4 deputy director, said it's hoped these efforts will make an impact on people's driving habits.
"This is as much about education as it is about enforcement," Picuri said.
In fact, research released Tuesday by the AAA Foundation for Traffic Safety reveals that while 97 percent of drivers say texting/emailing while driving is a serious safety threat, 45 percent admit to having read a text or email while driving in the past month and 35 percent admit to having typed one.
John Born, director of the Ohio Department of Public Safety, said partnerships between other groups, such as the ODOT/patrol partnership are also important in cutting down on crashes. He said when he joined the state patrol in 1987 there were more than 800 deaths a year caused by drunken driving. He said that number has been cut in half since then and while it is still high, he said the fact that several public and private groups worked together to educate people show such partnerships can work.
"The reason we had success in that area is because of partnerships," Born said.
Sutton said that the patrol is also teaming up with Mahoning Safe Communities to demonstrate the dangers of distracted driving using the distracted driving simulator. Troopers will also hand out pamphlets to educate people on the dangers.
After her father's death, Yanssen said she wanted to educate people on the dangers of distracted driving.
"These numbers are not just numbers," she said. "They're people."
Yanssen also said current law does not go far enough to address distracted driving and that people should lobby lawmakers to change the law so that people can be charged with distracted driving as a primary offense, not a secondary one.
"The time to act is now before your family is next," Yanssen said.
More like this from vindy.com