YSU sponsors annual Quest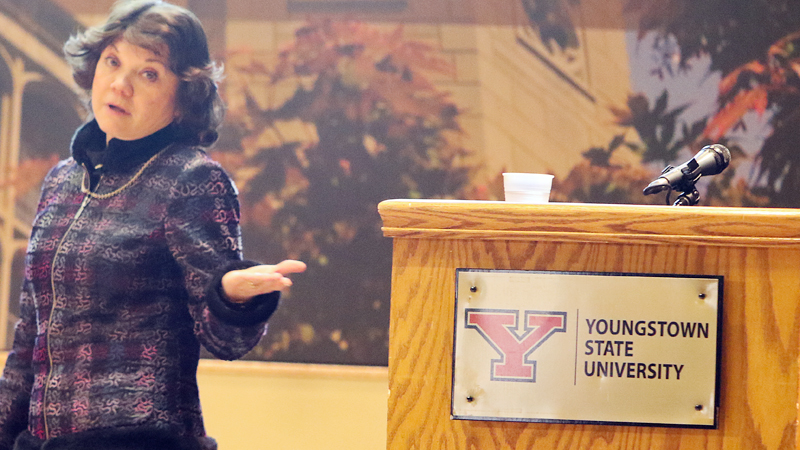 ---
By AMANDA TONOLI
atonoli@vindy.com
YOUNGSTOWN
About 400 Youngstown State University students presented nearly 300 research projects during the university's 29th annual QUEST Forum for Student Scholarship on Tuesday.
QUEST gives students the opportunity to choose their own research projects, work with faculty and present them on one day each year to potentially win awards for the best projects and presentations.
Jim Tressel, YSU president, said he's excited YSU has students with the curiosity and research skills to "go places we haven't gone before."
"One of the differentiating factors [we have] is that our full-tenured, full-time faculty are working hand-in-hand with our undergraduate students to make sure they're prepared for the future and have opportunities ahead of them," he said.
University Provost Martin Abraham agreed.
"We place an importance on the heights of experiences we provide for our students at Youngstown State," Abraham said.
QUEST keynote speaker Donna J. Nelson, University of Oklahoma chemistry professor and former consultant on the TV show "Breaking Bad," addressed the importance of such experiences.
"It's about working across boundaries," she said.
Nelson told students about her experience coming into being a consultant for a television show which involved learning on both sides in terms of communication.
Students' communication skills were especially impressive this year, said Michael Hripko, YSU Office of Research associate vice president.
"I've never seen posters and presentations of this caliber," he said.
YSU junior and senior students Neil Clark and Allison Bator presented a relevant topic, "Campus Carry: How it Affects Campus Safety."
Clark said the research project is a hot-button issue that he and Bator researched by comparing 20 universities – 10 that allow concealed carry permits and 10 that do not – and the number of aggravated assaults on campus per year.
The results, Clark explained, yielded little to no difference.
Learning the comparison results wasn't all Clark and Bator gained from their experience.
Bator said participating in QUEST may help her in her post-undergraduate education.
"It helps when we are looking into going to graduate school because it sets us apart from other students who may not have had this kind of opportunity and experience," Bator said.
More like this from vindy.com