Penguins overcame slow start to flourish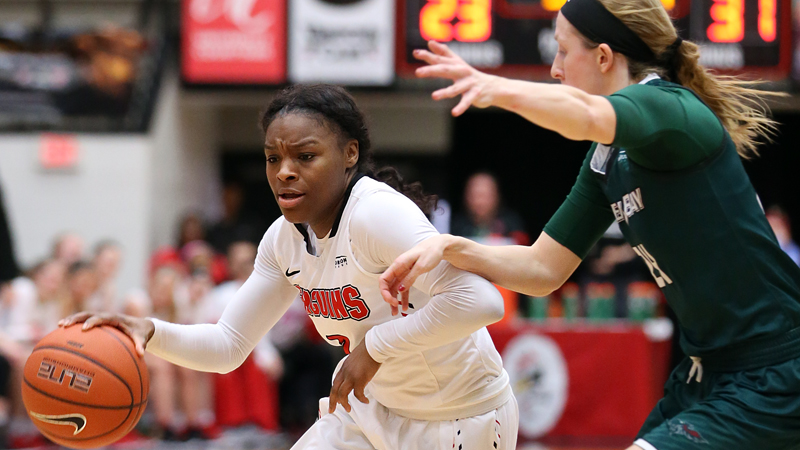 ---
By BRIAN DZENIS
bdzenis@vindy.com
YOUNGSTOWN
There was the slow start. There were injury concerns both before and during the season and a lot of youth getting major minutes, but the Youngstown State women's basketball team put together a decent season.
The Penguins (16-16, 11-7 in the Horizon League) earned a postseason appearance — a one-and-done in the Women's Basketball Invitational — for the third time in five years under coach John Barnes.
It's the second-best stretch in program history, behind Ed DiGregorio's three NCAA tournament appearances in six seasons.
The WBI bid came after YSU rebounded from a 6-12 start to finish as a Horizon League semifinalist, falling to eventual champ Green Bay, 62-49.
"I thought we dug in. The players really dug in deep. They started practicing harder. They started playing harder. Our level of toughness raised up some and it was hard to play with confidence when you weren't winning games," Barnes said following the team's loss to Binghamton in the WBI.
"Once we started winning more games, we had more confidence and we went on that run."
The past season was a huge improvement over last year's 9-21 campaign, which was marred by season-ending injuries to Sarah Cash and Nikki Arbanas.
With the pair returning with surgically repaired knees this season, they held up well. Cash averaged 21 minutes and a team-best 11.6. Arbanas was the team's best 3-point shooter, shooting 39 percent on a team-high 166 attempts. Both players missed just one game each.
The Penguins still took some lumps. Junior guard Alison Smolinski was limited to 16 games with a broken foot and senior guard Kelley Wright broke her arm in the team's regular-season finale.
"We missed Kelley and we missed all the players that were hurt. We needed them," Barnes said. "We didn't have a lot of depth, but it is what it is. That's part of why our season was the way it was."
Three freshmen — Chelsea Olson, McKenah Peters and Anne Secrest — averaged at least 10 minutes this season.
Olson was the most productive. She was the Horizon League's Freshman of the Week four consecutive weeks as she didn't take long to lock up a starting role, She averaged 7.9 points and 4.3 rebounds.
"[Olson] has been getting better and better and got a lot of experience. Anne got a lot of time. McKenah was a solid player for us and had to play a much bigger role than what we were planning on because of the injuries," Barnes said. "We got a lot of experience for our younger players and learned a lot."
YSU will lose three players to graduation — starting point guard Indiya Benjamin, reserve forward Morgan Olson and Wright. Secrest announced after the season that she is transferring to Division II Indiana Wesleyan.
Tuesday, Arbanas posted on Twitter that she "will forego my 5th year of basketball eligibility" so she can attend Palmer College of Chiropractic in Iowa.
On Twitter, Barnes praised Arbansas: "Through an acl, broken nose and numerous other injuries, you always gave it your all. ... You will be missed."
Benjamin departs Youngstown as one of the best players the program has had. She holds the career records for assists and games played. She was the nation's only player in any division to have at least 600 assists and 200 3-pointers in her career.
"I don't really focus on my records and what I've done individually. I'm just happy that I was able to have three winning seasons here at YSU," Benjamin said. "I got to play with a great group of girls and individuals on and off the court. I played with a great coaching staff and I'm very proud of what we were able to do in my four years here."
The outlook for the Penguins next year is similar to the previous year. Even though YSU dealt with injuries to key contributors, it sets up a situation where today's players in emergency roles are tomorrow's key pieces.
"I think with last year with a lot of injuries and having only nine wins and to have injuries this year and get 16 wins with all these young players getting minutes, it's really exciting for the future," Barnes said.
More like this from vindy.com