GM sales increase, but Cruze numbers decline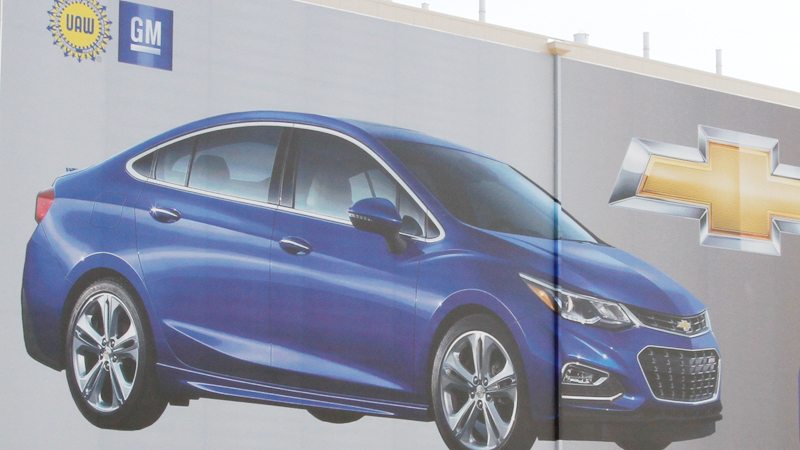 ---
By KALEA HALL
khall@vindy.com
LORDSTOWN
For the last time, General Motors reported its monthly sales on Tuesday.
From now on, the automaker will release sales quarterly with the first release coming in July.
In March, the automaker beat analysts' expectations with a 16 percent year-over-year increase in sales.
The locally produced Chevrolet Cruze, however, continued to struggle with a 14 percent sales decline – making March the 11th consecutive month of declining sales for the compact car.
The Cruze sedan had 12,872 sales in March 2018 down from 15,054 sold in March 2017. The Mexico-built Cruze hatchback had 3,250 sales in March 2018, down from 3,553 sales in March 2017.
In total, GM sold 296,341 vehicles in the U.S. in March.
GM's sales during the first quarter of the year were up 4 percent.
"Thirty days is not enough time to separate real sales trends from short-term fluctuations in a very dynamic, highly competitive market," said Kurt McNeil, U.S. vice president, sales operations, in a statement. "Reporting sales quarterly better aligns with our business, and the quality of information will make it easier to see how the business is performing."
Monthly sales reports began in the early 1990s after Chrysler Corp. moved from 10-day sales reports to the monthly reports and other automakers followed.
Some analysts think automakers will now follow GM's move and switch to quarterly reporting.
"They think this will be a time saver for them," said Charlie Chesbrough, senior economist for Cox Automotive, of GM's move. "They won't be scrambling to get the news [out.]" The danger for GM is that the company will have less control of its sales narrative, he said.
"What replaces the information source? Certainly we all want to know what's happening in the industry. People are going to know how sales progress," Chesbrough said.
Jessica Caldwell, Edmunds executive director of industry analysis, said it's hard to say whether other automakers will follow GM's switch.
"Everyone has different motivations," she said.
GM's motivation for the switch is the higher volatility in monthly sales reports caused by launch activity, weather, other seasonal factors, the number of selling days and incentive activity.
"When you look over a longer period time, it is a cleaner look at sales," Caldwell said.
March 2018, on Tuesday, was shaping out to be the best March ever for the industry.
Tax reform is one of the factors analysts say boosted sales, yet fewer sales are still expected this year over last.
The car segments are still the weaker link while the utility and truck segments remain strong.
March 2018 had one additional selling day and weekend compared with March 2017.
"We would expect it to be up," Chesbrough said. "But clearly the market seems to be even outperforming that."
Ford Motor Co. reported a year-over-year sales increase of 3.4 percent with 244,306 vehicles sold.
Fiat Chrysler Automobile U.S. LLC reported a 14 percent increase in sale with 216,063 vehicles sold.
Honda reported a 3.8 percent increase in sales with 148,392 vehicles sold.
Toyota Motor North America reported March 2018 sales of 222,782 vehicles, an increase of 3.5 percent from March 2017.
More like this from vindy.com