Richards was key scorer for OSU's 1998 team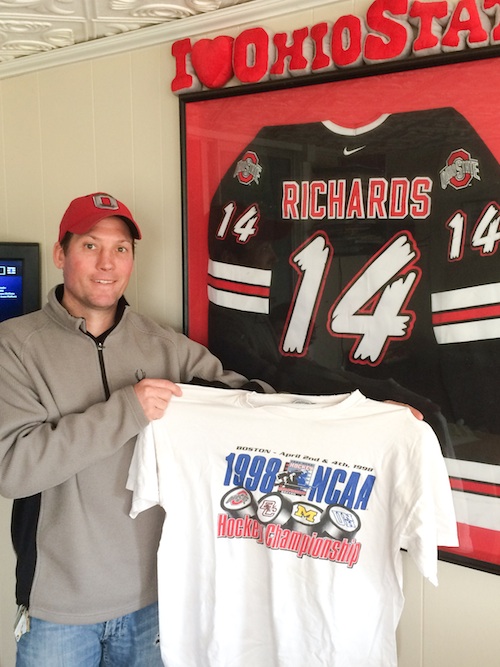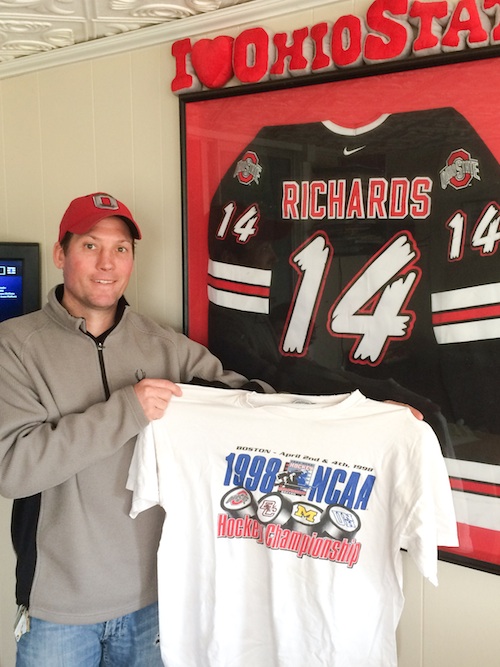 ---
By TOM WILLIAMS
williams@vindy.com
AUSTINTOWN
When the Ohio State University hockey team returns to the NCAA's Frozen Four on Thursday, it's safe to say that no Buckeye in the Mahoning Valley will be feeling more pride than Canfield High School hockey coach Chris Richards.
In college hockey's version of the Final Four, the Buckeyes (26-9-5) will play Minnesota Duluth (23-16-3) at the Xcel Energy Center in St. Paul, Minn., in the opening semifinal. The winner will advance to Saturday's championship game, facing the winner of Thursday's other semifinal between Notre Dame (27-9-2, Big Ten champion) and Michigan (22-14-3).
Richards likes the Buckeyes' chances.
"They don't give up a lot [of goals]," Richards said. "They seem to be deep, they are fun to watch."
This is Ohio State's first Frozen Four appearance in 20 years. In 1998, Richards, then a junior, was Ohio State's second-leading scorer (22 goals, 30 assists, 52 points in 41 games).
After college, Richards played minor-league hockey for 12 seasons. Three of them were with the Youngstown SteelHounds of the Central Hockey League.
In his third season here, Richards was the SteelHounds captain and assistant coach to Kevin Kaminski. He is the SteelHounds' all-time leading scorer with 292 points.
Richards is not surprised to see three Big Ten teams in the Frozen Four, citing the quality of Minnesota, Penn State and Wisconsin who didn't make the NCAA Tournament.
"There is never an easy [league] game, they play tough hockey every weekend," Richards said. "They have a lot of talent and they are coached well, you can tell.
"The system that they play and Notre Dame plays, they grind it out and beat you with their depth."
Richards grew up in Cornwall, Ontario, about an hour west of Montreal, Quebec. John Markell, Ohio State's coach from 1995-2010, also was from Cornwall.
When Richards was playing junior hockey for Kitchener in the Midwestern Junior League, he met Markell one summer and asked him to come to one of his games.
"He did," Richards said, and a scholarship to Ohio State later was offered.
Because of his size, Richards chose to play in an amateur league in Canada so he could retain his NCAA eligibility.
"I wasn't big enough, I wasn't scouted for [major juniors]," Richards said. "I was college-bound from an early time. My Dad played college hockey at Buffalo and I had been sort of groomed for it."
Richards arrived in Columbus in 1995.
"On my recruiting trip, I was awestruck by the size of the campus," Richards said, adding it was "a mini-city within itself. I had never seen anything like it. I was pretty blown away and pretty impressed."
Richards scored 16 points as a freshman and 28 the following season.
His junior season was his best offensively as he finished third in the CCHA in scoring. Hugo Boisvert, another center, led the Buckeyes with 58 points, six more than Richards.
In the 1998 West Regional at Ann Arbor, Mich., the Buckeyes defeated Michigan State, 4-3, in overtime in the first game. It was sweet revenge for the Buckeyes — the Spartans had defeated the Buckeyes in the CCHA championship with a double overtime win the week before.
"We got redemption," Richards said. "We were playing [our] best hockey."
In one of the two West regional finals, Ohio State shut out Yale, 4-0. (Michigan won the other regional).
In March 1998, the Frozen Four was played in Boston at the FleetCenter (now TD Bank Garden). It was Richards' first trip to Boston. As the Buckeyes departed their airplane at Logan Airport, bagpipers were playing in the waiting area.
"We had a police escort everywhere through the city for every event," Richards said. "It was crazy — we were going the wrong way on one-way streets. We looked like a presidential motorcade [but] with a coach bus.
"It was pretty cool — we seemed pretty important," Richards said. "They treated us well."
In the Frozen Four semifinals, Ohio State and Boston College were tied 2-2 going to the third period. The Buckeyes almost took a lead into the third period,
"We rung [one off the] crossbar with about a minute left in the second," Richards said. "Things could have been different."
Boston College scored twice in the final period then added an empty-net goal for a 5-2 victory.
The Eagles had several future NHL players including goaltender Scott Clemmensen, defenseman Rob Scuderi (Stanley Cup champion with the Penguins in 2009) and winger Brian Gionta (this year's captain of the U.S. Olympic team).
"They were a good team," Richards said.
As for the Buckeyes, Richards said several of his teammates later signed NHL contracts.
"But nobody ever stuck" Richards said.
In the 1998 championship game, Michigan defeated Boston College, 3-2.
In his senior season, Richards scored nine goals and 37 points. That was the year that the Buckeyes moved their home games midseason from the tiny OSU Ice Rink to the Schottenstein Center.
"I had the first goal in Schott history — a 1-0 win against Michigan," Richards said, adding with a laugh, "that's my claim to fame."
At Ohio State, Richards met his wife, Melissa, when Markell sent Richards and three teammates to her sorority to drum up support.
"I didn't know Ohio State had a hockey team," Melissa said.
Both admitted they didn't want to go to the sorority's chapter dinner where the players talked hockey and outfitted one of the members in hockey gear. It's a good thing they did. Dating began three months later.
Last October, Ohio State honored the 1998 team with an on-ice ceremony before a Buckeyes game.
"They opened their arms to the 1998 team," Richards said. "It was really cool."
When the CHL pulled the plug on Herb Washington's SteelHounds in June 2008, Richards played three more seasons in the CHL: two with the Corpus Christi Icerays and one with the Mississippi RiverKings.
The Richards family then moved back Austintown. One reason is because it is in-between Melissa' family in Dayton and Chris' family in Ontario.
"Youngstown has been good to us," Richards said.
More like this from vindy.com