Architect Raymond Jaminet remembered as 'greatest type of guy'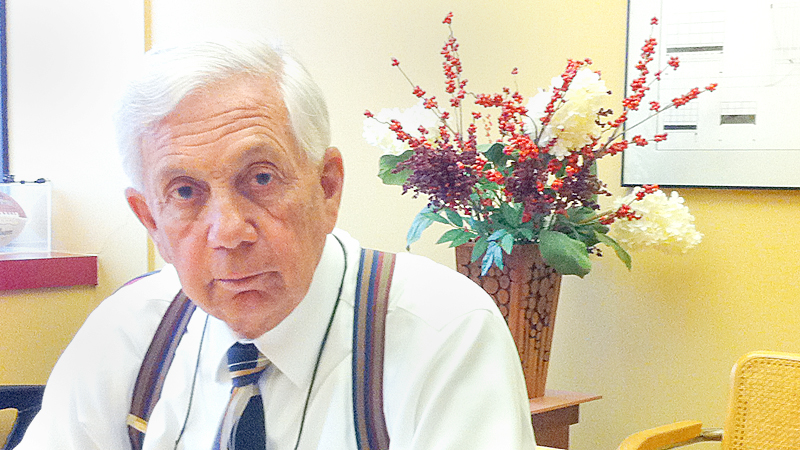 ---
By KALEA HALL
khall@vindy.com
YOUNGSTOWN
The day before he died, architect Raymond J. Jaminet Sr. went to work at Olsavsky Jaminet Architects.
"He was very hard-working," said Phill Jaminet, Raymond's son.
The lengthy list of prominent projects Raymond worked on tell the story of a Youngstowner who spent much of his life building up Youngstown. His work can be seen at Youngstown State University's Beeghly College of Education, at Oakhill Renaissance Place and at the Commerce Building downtown.
Jaminet died Friday at 82, leaving a legacy of celebrated work, and his wife of 45 years, Joyce; several children and grandchildren.
"I want people to know he was a great father, a great grandfather and a great husband," Phill said.
Family is what got Raymond started down the path to an architecture career. As a boy, he would help his father and uncle build homes on the North Side.
After Raymond graduated from Liberty High School in 1953, he studied at Youngstown College — now Youngstown State University — and Miami University in Oxford, Ohio. He graduated in 1960 from Miami with a degree in architecture.
He moved to Toledo for work, but returned to Youngstown in 1963.
In 1970, Raymond started his own firm, Raymond J. Jaminet & Partners, in Youngstown.
In the 1990s, Raymond's firm merged with James S. Olsavsky, Architect to form Olsavsky Jaminet Architects.
"His contribution to the Valley can be seen just by driving around the streets," Phill said.
In addition to Beeghly College, Raymond also designed the Historical Center of Industry and Labor on YSU's campus with famous architect Michael Graves.
"He was just one of those guys who was there for the good of the whole," YSU President Jim Tressel said. "He's just a good guy. He always had smile on his face."
Raymond did several projects for Mahoning County, most notably Oakhill Renaissance Place when county offices were moved there.
"It was always a pleasure to work with Raymond and his staff," county Commissioner Anthony Traficanti said. "He always was a gentleman who I consider to be a dear friend and he was certainly a professional at his craft."
Raymond dedicated 25 years of his career developing 21st century K-12 buildings. He designed more than 25 schools in more than 15 districts including Youngstown, Austintown, Campbell, Warren and Niles.
As a father of 10, schools were a big part of Raymond's life so he wanted to do what he could to help make them better.
"He was a real involved parent," Phill said. "He always took an active role in his kids' lives."
Raymond also did work for the Catholic Diocese of Youngstown including St. Charles Church in Boardman.
The Tippecanoe Country Club and his own office building at 29 E. Front St., which he designed and built with his father, are other significant works of Raymond's.
More recently, Raymond worked on the Youngstown Municipal Court renovation and restoration and the Activity Recreation and Cultural Center, an $11 million new facility for the Campbell school district.
"When he designed something, he took ownership of that," Phill said.
He described his father as man of great integrity — honest, kind, generous and selfless. He also took pride in being a Youngstowner and lived on the West Side.
Raymond's firm will continue, Phill says. "It won't skip a beat," he said. "That's what my father wanted."
More like this from vindy.com