Valley sorority collects, distributes supplies to children in Ghana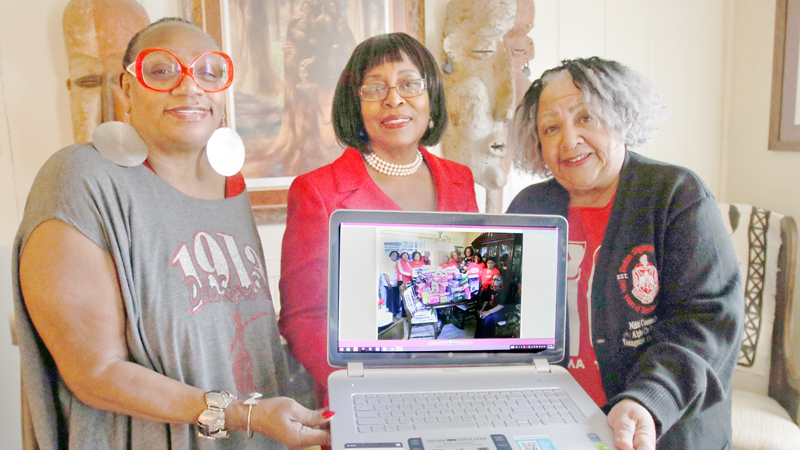 ---
By AMANDA TONOLI
atonoli@vindy,com
YOUNGSTOWN
Delta Sigma Theta's sorority's Giving for Ghana project produced five industrial-sized barrels packed with needed supplies to West Africa.
Nikki Davis, Delta Sigma Theta's public relations officer, said the project is one of many the organization takes on in international involvement.
"When you classify some sororities, we are definitely more falling in the category of social activism," Davis said.
The international outreach was backed by Susan Moorer, Delta Sigma Theta's chapter president, and Octavia Payne, Delta Sigma Theta's international awareness and involvement committee chairwoman.
Lynette Miller is Delta Theta Sigma's Giving for Ghana project coordinator. Her daughter Zakiya Miller is a Peace Corps volunteer stationed in Ghana, and was the catalyst behind Giving for Ghana.
Zakiya Miller is a teacher at New Absentensu Primary School.
"I was just working at a school in Ghana, West Africa, and the school has very, very, very limited access to basics for the kids," Zakiya said.
The basics included school supplies such as pens, pencils and crayons.
Lynette Miller said students were lacking materials to the extent that to teach them computer skills, students first had to draw pictures of computers for teachers to teach them basic keystrokes and skills.
"Scissors was another big thing," Lynette said. "Students would just take them because they don't have them."
"We had these challenges we were facing while trying to do enrichment activities in school," Zakiya continued. "So I asked my mom [Lynette] if she could come up with some kind of drive to donate to our school." From there, the Valley community took over, Lynette Miller said.
What started as a need to fill two barrels with supplies ended up filling five for Zakiya's students.
"We had no idea it was going to get this big," Lynette said. "When people asked what we needed I said, 'Everything, they need everything.'"
Another big need Zakiya noticed was the lack of hygiene products for women.
"When girls reach a puberty-age, they just stop going to school because they don't have the proper materials to take care of themselves, like pads, underwear and even education," Lynette said.
Not only was Delta Sigma Theta able to help supply school supplies, but it was also able to help Zakiya's Fresh Girls initiative.
"I had another friend of mine come and do a demonstration and we got these reusable feminine care kits and we made a half-day workshop of it," Zakiya said. "All of it was just absolutely amazing and mind blowing to see the community come together."
Davis said supporting both Fresh Girls and Giving for Ghana was a heart- warming experience, to be able to give back to people in need in their homeland.
"Women are so important to this world, and there are so many countries that devalue women," Davis said about the Fresh Girls initiative. "We've got to uplift our women in this world."
When Zakiya's students got what they needed, Lynette said she felt the last lines to the Black American national anthem "Lift Every Voice and Sing," ring true: "[we will] be true to our God [and] true to our native land."
More like this from vindy.com