Some Valley schools take comprehensive approach to school safety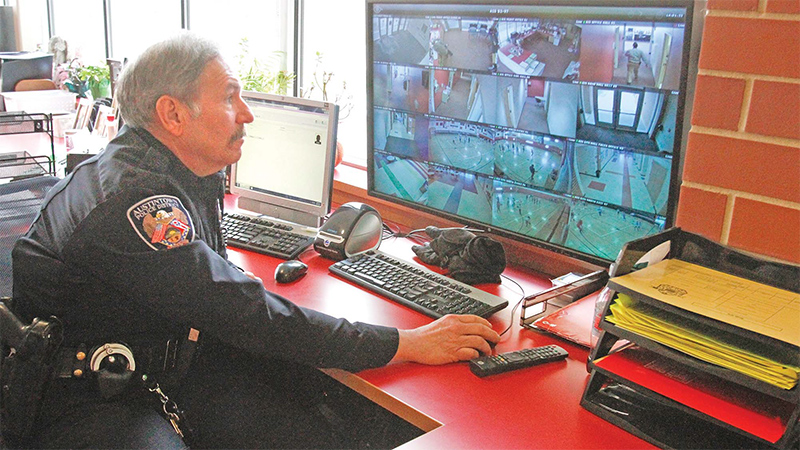 ---
EDITOR'S NOTE: This is the first of a periodic series of stories documenting security measures at Mahoning Valley schools. This week, we look at the systems at Boardman, Austintown and Youngstown schools.
Staff report
Valley schools, like their counterparts across the country, are grappling with security issues after mass school shootings in places such as Marjory Stoneman Douglas High School in Parkland, Fla.
The Raptor Security System is a common denominator among local districts, such as Austintown, Boardman and Youngstown schools, The Vindicator found during recent visits to area schools.
Raptor scans the driver's licenses or state identifications of visitors to school buildings. It allows school and security personnel to learn if a visitor has a history of being a sexual predator. It also informs school administrators about who is in the school building.
A visitor must report his or her destination upon entering a school and check out with office personnel before leaving the building.
Boardman schools Superintendent Tim Saxton said the district views its security measures as having two components: exterior and interior.
Boardman schools have a $163,000 security budget this year that includes costs for security equipment, alarm systems and security personnel for events, according to information provided by the district.
Additional funding for security upgrades comes from permanent improvement funds. District operations Director Jack Zocolo said the district does have some security upgrades planned this spring.
Security measures on the exterior of school buildings with the Raptor system include locks on doors.
Boardman also has vestibules, or "man traps," at entrances to some buildings. After entering the building, visitors remain in a secure area where they must present their identification and be buzzed in to the school building. There are plans to install vestibules at all buildings in Boardman.
Inside buildings, the first layer of security includes school resource officers, Saxton said.
In Boardman, one officer who oversees district security is stationed at the high school.
Officers also are stationed at Center Intermediate School and Glenwood Junior High, and another officer rotates among the elementary schools.
In Austintown and Youngstown, at least one officer is stationed at each school.
Having one school resource officer per school in Youngstown "not only provides a layer of security, but also enables students to form relationships with the officers in those schools," Youngstown City Schools CEO Krish Mohip said.
Saxton said having police officers in schools goes far beyond guarding buildings.
"The first investment is the SROs, just having them in the buildings, making connections with kids," he said. "They're not just walking around being the sheriff with the big badge. The kids see them as an educator, as a protector."
Boardman Police Chief Todd Werth said school resource officers are part of a team that heads off problems before they surface.
"They're not there as a guard. They're there as a resource in the school to work with and help these kids," he said.
The benefits of having SROs in schools, he said, are deterrence and a focus on safety with a trained presence.
"I think probably the main thing is you look at trying to identify problems, issues, and children in crisis before something happens, before there is an act," Werth added.
Austintown schools Superintendent Vince Colaluca said his district's security budget was increased by $220,000 from $80,000 budgeted annually after the Sandy Hook school shooting in 2012. Now, Austintown schools have about a $300,000 annual security budget.
Revenue from open enrollment financed that increase, he added.
"We wanted to have armed officers at each building – at our four main buildings on campus," Colaluca said. "We moved forward on that plan and maintained it."
Youngstown schools, which have an annual $1.1 million security budget, also have another layer of security: metal detectors in Chaney and East high schools.
"The safety and security of our students is always foremost in our minds at the Youngstown City School[s]," Mohip said. "We've taken steps to try to help our students and our staff feel safe while in school.
"If children don't feel safe, they aren't able to focus on their classes the way they should."
Both Youngstown and Boardman have programs dedicated to addressing students' mental health, which employ counselors and social workers to identify, track and address students who may be in need of support based on behavior, attendance and grades.
Students who need interventions are then connected with the appropriate programs.
"We're catching them early and getting them help," Saxton said.
Other initiatives in both Boardman and Youngstown include Positive Behavior Intervention Supports, which reinforces positive behavior, and a program that helps new students transition into their schools.
As far as emergency preparedness, Saxton said the district incorporates parts of the Alert-Lockdown-Inform-Counter-Evacuate (ALICE) training into its plan. ALICE is an active-shooter training program.
Austintown schools also have had ALICE training several times over the last few months.
Contributors: Staff reporters Jordyn Grzelewski and Billy Ludt and education reporter Amanda Tonoli
More like this from vindy.com