Beckwith, Hostetler let nothing slow them down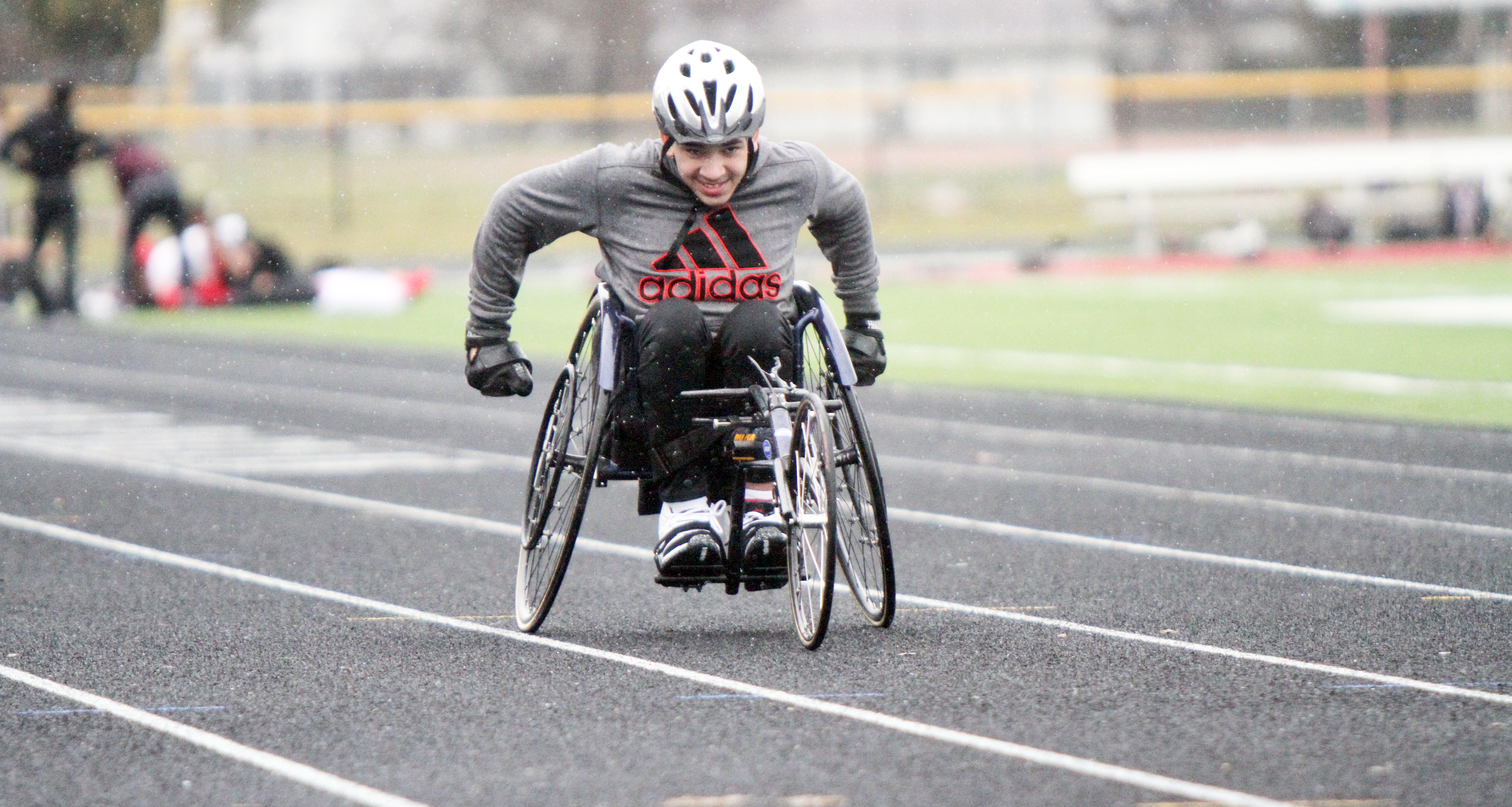 ---
By Dan Hiner | dhiner@vindy.com
Only two athletes will compete in a 100-meter dash during a track meet on Tuesday at Boardman High School.
Except neither athlete will be running.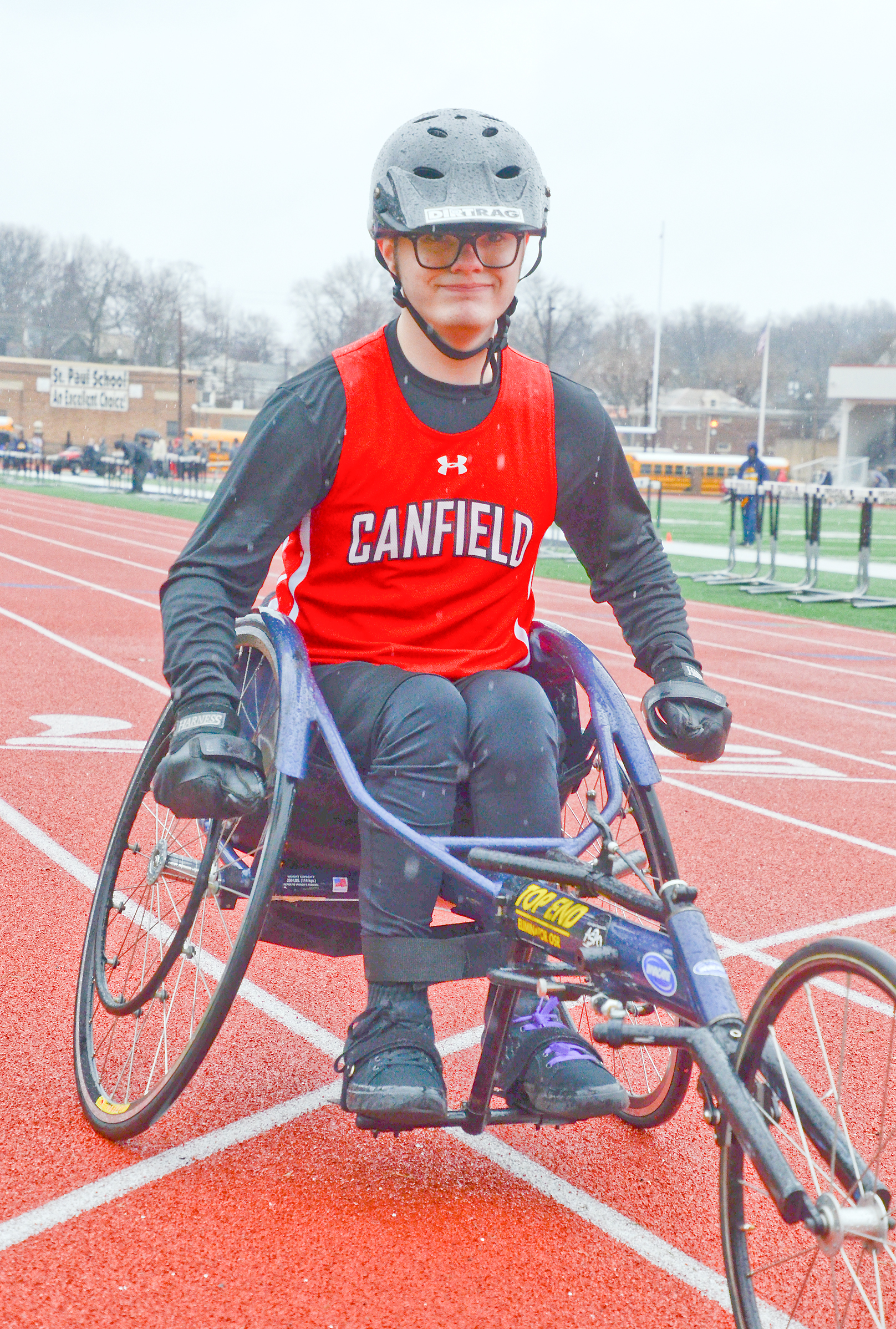 Photo
Boardman's Micah Beckwith and Canfield's Jake Hostetler are athletes who use wheelchairs and who will compete against each other for the first time.
It's the first year of track for both athletes. It also marks the first time two seated athletes will compete against each other in local high school competition.
Wheelchair Athlete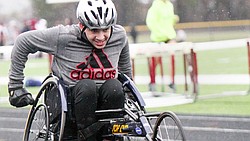 Video
Micah Beckwith, a Boardman HS freshman track team member competes in his wheelchair.
Under OHSAA rules, seated athletes compete against other runners. But when more than one seated athlete is competing in an event, they will compete against each other in a separate heat.
Beckwith needed surgery several years ago to remove a tumor on his spine. After a complication during the procedure, Beckwith found himself in a wheelchair.
Beckwith, a freshman, never ran track prior to his surgery. He joined the Spartans track team as a means of getting active and not sitting around.
"This is the first time I've ever done a school sport since I've been in the chair," Beckwith said. "This will be the first time."
Boardman head coach John Phillips said Beckwith has been at every practice, regardless of the weather.
Beckwith has been working out with Boardman's throwing coach, and has been lifting weights to improve his conditioning.
Phillips hopes Beckwith can continue to improve and attend the OHSAA Seated Division State Championships in Columbus this summer.
Phillips said the team has seen wheelchair athletes at the state meet the last couple years, but none were local.
He said they usually come from areas like Massillon, Kent and Ravenna.
"I was thrilled when I found out that Micah was interested," Phillips said. "It's great to have another kid from Canfield, to have two in this area, and the hope is to inspire other kids in other schools to join as well."
Hostetler has cerebral palsy, a disorder which impairs muscle function.
Hostetler joined the track team after attending physical therapy and began working with a personal trainer.
The Canfield sophomore played sled hockey, wheelchair basketball and football, and after some encouragement from his trainer, took a shot at track.
"He's come in, worked hard and done everything that's been asked of him," Canfield head coach Mike Dahmen said. "When you work with a kid, you can't ask for anything more."
The Cardinals competed in Thursday's Cope Invitational in Salem.
Hostetler competed in the 100-meter dash and finished with a time of 47.50.
Dahmen and Phillips both had to make adjustments to their newest runners.
"It's been a learning experience," Phillips said. "Fortunately, they had a little training session at [Austintown] Fitch that I was at and Micah and family was at as well.
"We got used to the nuances of the chair, the varying informational binder about workouts and things he's able to do."
Hostetler hopes Tuesday's race can get more physically challenged students to participate in sports.
"You can do whatever you want to do," Hostetler said. "It kind of brings things to the forefront."
More like this from vindy.com