Muntean looks to take next step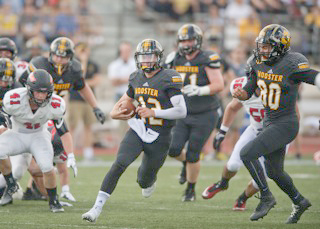 ---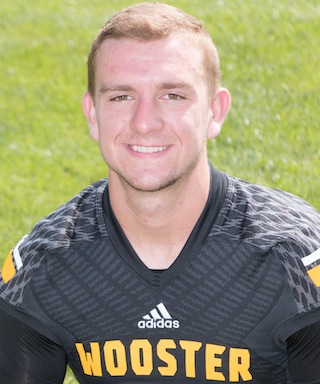 Photo
By Dan Hiner
dhiner@vindy.com
Wooster quarterback Gary Muntean is taking the next steps in his football career.
On Wednesday, the Struthers graduate will participate in the National Pro Day & Scouting Combine at Widener University.
"This is what I've been working for and I'm really excited," Muntean said. "A little nervous, but it is what it is.
"This is what I want to do. This is my dream and I couldn't be in a better position."
Muntean broke several record while playing for the Scots.
He is set career records with 8,295 passing yards, 65 touchdowns, 62.1 percent completion percentage and 145.6 passing efficiency.
Muntean threw for 3,165 yards and 33 touchdowns in 2017 — both are Wooster single-season records.
Muntean became the third Wooster player to receive the North Coast Athletic Conference Offensive Player of the Year in 2017.
He also became the second quarterback in school history to be named first team All-NCAC.
Now he has an opportunity to impress scouts from a few professional leagues.
Members of the NFL, Arena Football League and Canadian Football League were invited to attend the workouts.
Starting the last two years has benefited Muntean early in his workouts.
He said the speed of the game helped prepare him for the pressure he experiences during the professional workouts.
Muntean already attended an open tryout for the Saskatchewan Roughriders, and he's also planning on attending the Calgary Stampeders' open tryout on April 8.
He learned from his first workout with Saskatchewan. He is aware of areas he needs to improve such as his footwork and speed.
"Having receivers start in motion 10 yards from the line of scrimmage is kinda different," Muntean said. "Just adjusting on the fly ... it was different. I felt like I did consistently good throughout the day."
If Muntean receives an offer from a CFL team, he would be placed on the team's negotiation list.
This would give the team exclusive rights to negotiate a contract, but wouldn't prevent Muntean from signing with another league.
Muntean is also interested in attending a workout with the Ottawa Redbacks in Indianapolis, but wants to focus on the Combine and his meeting with Calgary.
He feels his meeting with the Stampeders will be a private workout because both sides were eager to schedule a meeting.
He wants to have fun with the process and is excited for the opportunity to make a roster somewhere.
"It's a dream come true," Muntean said. "Even though it's not the NFL, you see how many guys start in the CFL and make their way up to the NFL and make an impact.
"That's all I'm asking for — a shot. All I ever what in football was a shot. That's what I came to Wooster for was a shot to start right away. Eventually, I got that and ran with it. That's all I'm asking for is a shot."
More like this from vindy.com