Locals recall shock, anger & hope 50 years after MLK killed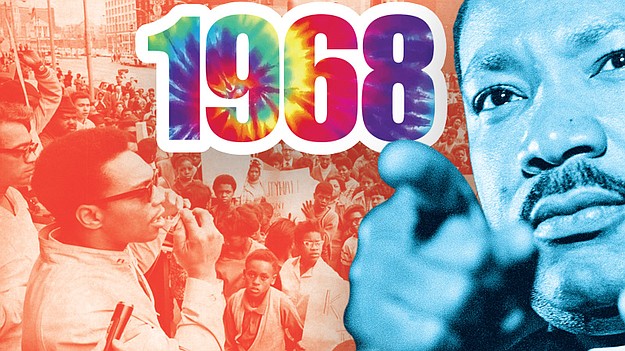 ---
By JORDYN Grzelewski
and GRAIG GRAZIOSI
news@vindy.com
YOUNGSTOWN
The Rev. Lonnie A. Simon was no stranger to eulogies.
Martin Luther King Jr. Assassination Remembered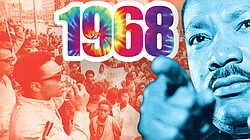 Gallery
File photos from The Vindicator regarding the assassination of Martin Luther King Jr.
But the eulogy he was scheduled to deliver on Sunday, April 7, 1968, was something different. The stakes were higher, the grief deeper.
Three days earlier, Dr. Martin Luther King Jr. was assassinated in Memphis, Tenn. The Rev. Mr. Simon – who marched and led chants with King in Montgomery, Ala. – was scheduled to deliver the eulogy to the grieving masses at Stambaugh Auditorium.
The Rev. Ken Simon – then a 13-year-old – had been watching King lead the civil-rights movement since he was 8. That Sunday, he watched his father prepare for not just a heartfelt goodbye but for a message of hope to a wounded movement.
"My father was always a serious man. He would sweat when he was getting ready, but it wasn't because he was nervous," Ken Simon said. "He was solemn, but he was up to the challenge."
That Sunday, The Vindicator previewed the memorial service.
"Words of anguish and calls to unity of brotherhood are being issued here by laymen and clergy of all faiths on this day of mourning for Dr. Martin Luther King, the assassinated civil-rights leader," the article stated. "The Rev. Mr. Simon will stress the need for 'more forgiveness, more love, to ... close the gap that exists between black and white because of prejudices.' He will urge, 'Let it not be said that our great leader, Dr. King, died in vain.'"
TENSIONS BOIL OVER
That day's paper also continued coverage, for the third straight day, of reactions to King's assassination – some violent, some peaceful – that had erupted across the country. Up to that point, Youngstown had avoided the violence experienced in other cities.
"President Johnson again held off his departure for Hawaii and called a midmorning White House meeting of civil-rights leaders in the wake of violence erupting after the assassination of Dr. Martin Luther King Jr.," an April 5 wire story reported.
On April 6, the paper's headline reported, "16 Die in Widespread Riots, Looting."
On April 7, the leading headline declared, "LBJ Orders 5,000 Troops to Chicago." Underneath was the story about the Stambaugh Auditorium memorial.
The following day, events in Youngstown took a turn.
A peaceful march took place Monday, April 8.
"We marched from the South Side downtown. We protested in front of The Vindicator and then we moved on to a protest in front of City Hall. Then everyone headed back to the South Side," Ken Simon said.
Then, in the afternoon, simmering tensions flared.
"Negro leaders and witnesses charged that police brutality in dispersing youths from Hillman [Street] and Falls Avenue about 4 p.m. Monday touched off yesterday's violence, but police said taunting youths who refused police orders to disband are to blame," The Vindicator reported Tuesday, April 9, describing Hillman as a "disorder flash point."
Randall Wellington, former Mahoning County sheriff and city police chief, who was then a city police patrol supervisor, recalled his experience that day.
"The first incident was up at Parkwood and Hillman Street. We got a call that there was a huge crowd up there obstructing traffic," he said.
Wellington recalled city police receiving numerous calls about crowds blocking traffic at several intersections, and officers going to disperse the crowds several times.
"My father [Lonnie] tried to shield me from what was happening, but I went down to Hillman anyway," Ken Simon said. "I saw my father in the crowds trying to quell the hostilities and calm the community."
Events came to a head when gunshots were fired, injuring two police officers and a young black man from the South Side.
Speaking from the hospital where he was being treated for a gunshot wound to the hip, the man told a reporter he and other young people had congregated on the South Side after a peaceful march to the courthouse earlier Monday.
The Vindicator reported the gunfire "triggered six hours of fire-bombing, window breaking and some looting that finally was stopped by fully mobilized police and about 400 National Guardsmen."
"It was like a war zone," Wellington said. "Seeing the National Guard there, seeing the military vehicles, buildings on fire, vehicles being stopped ... you actually think you're in a war zone."
It was at about this time that Wellington became acquainted with Artis Gillam, who would go on to serve on city council.
Gillam, who at that time worked for an insurance company and owned a record shop, remembered taking a drive with his wife and two young sons that day.
"I'm hearing all these fire- trucks go by. When I got up to the corner of Albert and Oak street [on the East Side], I'm going, 'Oh my goodness,'" he said. "Oodles of people were there, and also YPD was there. The people were yelling. Young [people] – 15, 16, 17, 18 years old – were throwing rocks down at the policemen."
Gillam said he talked to the teens and told them, "Look, that's not going to work – you've got rocks, and they've got guns."
He then went and spoke to Wellington, telling him he'd get people to stop throwing rocks if Wellington made sure the officers wouldn't fire on the crowd.
"We did that," Gillam said. "He made sure his officers did not shoot up in the crowd."
THE UNDERCURRENT
The reaction to King's assassination stemmed in part from the racism, both underlying and overt, of that time. Despite the progress shepherded by King and other civil-rights leaders of the 1960s, the country – including Youngstown – remained deeply segregated.
The Rev. Gena Thornton of Youngstown recalled instances of racism she experienced in that era.
In the early 1960s, for example, she and her husband, Robert, were one of the first black families to move to Sherwood Avenue on the South Side.
The Rev. Mrs. Thornton remembers getting a phone call from a real-estate company warning her about a black family moving into the neighborhood, and offering its services to get a good price for her home. Little did they know, she was part of the family about which they were warning. Within a few years, most of the white families had left the neighborhood, she said.
"The tension in Youngstown between black and white was heavy. Very, very, very heavy," Gillam said. "All whites didn't hate all blacks, and all blacks didn't hate all whites, but there was tension in Youngstown."
Mrs. Thornton said those tensions boiled to the surface when King was murdered.
King's assassination, she said, made her aware of "the undercurrent of what was happening."
LASTING INFLUENCE
For many people, King's death was a devastating and personal loss that influenced them far beyond 1968.
"He was the voice, the face, the hope of not only people of color, but all people struggling for their rights, including the laborers," Ken Simon said. "Hearing he had been assassinated brought out the worst in some people, but in others it awoke a passion and heart for the movement."
Gillam, now 75, remembers coming back to the record shop he and his wife, Annie, ran, and hearing the news of the assassination from her. Gillam previously had participated in the March on Washington and other civil-rights events.
"The day that he was assassinated was very, very hurtful for me," he said. "It just knocked me to my feet."
Fifty years later, he believes the country is going in the right direction, but he's not sure Youngstown is.
"I don't know. When I look at TV, I don't see people that look like me, that are [news] anchor people," he said. "When I wake up in the morning, I would like to see people that look like me."
Although Gillam commends the job being done by Mahoning County Sheriff Jerry Greene and city police Chief Robin Lees, he said police killings of black people in other parts of the country prompted him to quit his job as a reserve deputy sheriff.
"What I'm saying is, I'm disgusted," he said.
Ken Simon said King had the unique ability to take the anger and frustration borne from the injustices faced by the communities he led and channel them into positive, nonviolent movements for change.
"There's certainly a vacuum today. On one side, there's a lot of anger, and on the others, there's a lot of people who seem to have given up and could use the motivation. King bridged that gulf unlike anyone else," he said.

For Mrs. Thornton, King's assassination was a turning point in her life.
The night of April 4, 1968, when she heard the news on the radio while giving her kids a bath, changed everything.
"My spiritual life started on April 4, 1968," she said. "It was as though, for some reason, it was like my whole family died."
King inspired her to begin praying, studying the Bible and eventually to attend seminary and join the ministry. She started working at Mr. Lonnie Simon's New Bethel Baptist Church in 1976, and later pastored congregations in Cleveland and Warren.
"I always said from that time on, when I preached, that the bullet that went into Dr. King and killed him, went into me and woke me up," she said.
She believes the U.S. has a long way to go in its treatment of black people, and she sometimes worries the efforts of her and others aren't working.
Mrs. Thornton was reminded of King when she watched news coverage of the March for Our Lives, a student-led movement to end gun violence.
That movement gives her hope.
"When I saw [that], I said, 'Yes, oh yes, it is working.'"
More like this from vindy.com