Kids, seniors enjoy each other at EASTER EVENT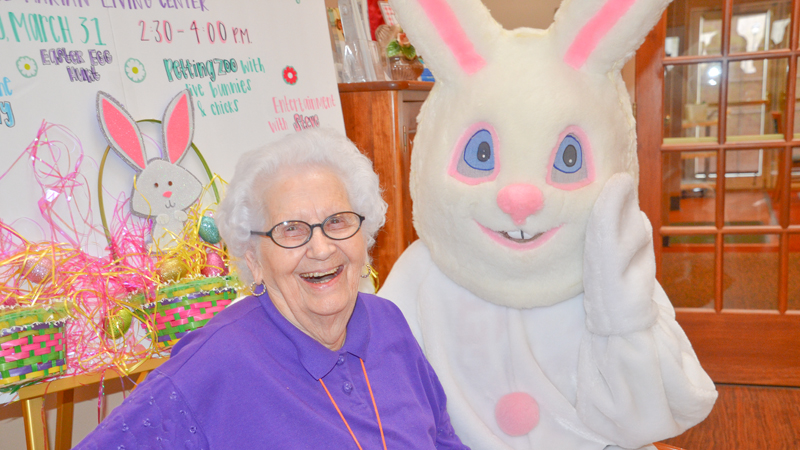 ---
NORTH LIMA
The annual Marian Living Center Easter open house and Easter egg hunt Saturday enabled two communities – the young and the elderly – to merge for a few hours and make new memories and relive those from years ago.
"We get to enjoy watching a lot of kids have fun," Marian Living resident Margaret LoCicero said of the event.
LoCicero, who celebrated her 100th birthday Jan. 23 and who says "every day is a good day," remembers coloring hard-boiled eggs at Easter.
The event was from 2:30 to 4 p.m. at the Marian Assisted Living Center on Assumption Village Campus here, with the Easter egg hunt slated to begin at 3:30 p.m. However as Maureen McCarty, Marian Center activity coordinator, began the countdown, the excited children couldn't wait, and the hunt was on for the plastic eggs that contained treats and other surprises.
But before the egg hunt, there were two hours of fun, including getting pictures taken with the Easter Bunny and an educational indoor petting zoo, compliments of Greenford Felger Farms, which included bunnies, chicks and a baby kangaroo.
Some of the smaller children were a little leery of the Easter Bunny, but not Avery Anderson, 3, daughter of Tyreese Anderson and Dana Creatore of Youngstown, who was singing "Here comes Peter Cotton Tail ..." as she waited in line to have her picture taken. "She loves the Easter Bunny," her mother said.
Among volunteers helping with the event were Jennah Markovitch and Hannah Greene, both juniors at Boardman High School and members of its National Honor Society, under the auspices of which they were working Saturday. They are also members of Emerging Leaders, a group at the school whose purpose is to provide volunteer opportunities for its members.
They placed eggs for the hunt for the kids to enjoy, and Jennah noted that the Marian Center residents "were having a good time too."
Sponsors for Saturday's event included Stone Fruit Coffee, Pepperidge Farm Cookies, The McKinley Institute, Howard Reese Photography, Aperture Photography and Girl Scout Troop 80455.
More like this from vindy.com