Poland library hosts blood drive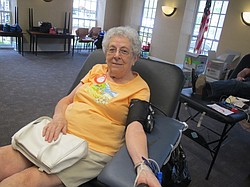 Photo
Neighbors | Zack Shively .Lee Sheridan prepared to give at the Red Cross Blood Drive at the Poland library on Aug. 17.

Photo
Neighbors | Zack Shively .The Red Cross provided snacks and drinks for the donors after they had given blood at the Blood Drive at the Poland library on Aug. 17.
By ZACK SHIVELY zshively@vindy.com
The Red Cross set up a drive for blood donations at Poland library on Aug. 17.
The meeting room of the library became a blood donation center with four stations set up for each step of the donation process. First, a volunteer greets and registers the donator right by the door. Second, a station off to the side allows the Red Cross workers to confidentially gather health history and give the donator a mini-physical. The third station is where the donator actually gives blood. Finally, the Red Cross offers snacks and drinks for those who have donated.
"It's the right thing to do," said Lee Sheridan when asked why she donates. She has been donating for many years and says the process and needle do not hurt. This sentiment seemed apparent from each of the donators at Poland. Some read, some chatted, some lounged comfortably and one even talked on the phone while donating. Another regular donator, Brian Brown, explained that he has been donating for years because he wants to help.
According to the Red Cross website, someone in the U.S. needs blood every two seconds. In a single car accident, the victim may need up to 100 pints of blood. The most requested blood type is Type O. The donation process only takes from ten to twelve minutes. The mini-physical checks temperature, blood pressure, pulse and hemoglobin.
More like this from vindy.com