CVMS football claims victory over Ashtabula Lakeside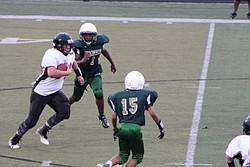 Photo
Neighbors | Submitted .Canfield Village Middle School tight end AJ Havrilla is pictured rumbling for yards.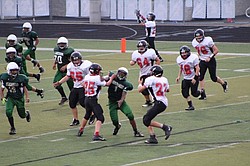 Photo
Neighbors | Submitted .Canfield Village Middle School quarterback Broc Lowry looked downfield for a receiver.
The Canfield Village Middle School seventh-grade football team traveled to Ashtabula recently and came away with a 26-20 victory to improve to 3-0 on the season.
Lakeside struck first on the games initial play as a Lakeside Dragon raced 65 yards on a jet sweep to take a 6-0 lead. Canfield responded on their next possession, moving 65 yards in seven plays, culminated by a 13-yard touchdown toss from Broc Lowry to Jack Fabry to tie the game at six.
On Lakeside's next possession Canfield's Ryan Schneider stripped the ball from a Lakeside ball carrier and AJ Havrilla recovered the fumble to set up Canfield on the host 30. Lowry then hooked up with Fabry again from 12 yards out to give the Cards a 12-0 advantage. Lakeside drove deep into Cardinal territory on the their next possession only to be turned back. Canfield's offense took over at their own 11 yard line and drove 89 yards in eight plays, keyed by a 19-yard strike from Lowry to tight end AJ Havrilla. Ryan Schneider plowed in from 11 yards out and Lowry hit Havrilla with the conversion to give Canfield a 20-6 halftime lead.
Canfield took possession to open the second half and ground out a 65-yard, ten play drive which was capped off by a 3-yard dash by Schneider to put Canfield up 26-6. Lakeside added two late touchdowns for the final margin.
Lowry accounted for 150 total yards, 61 on the ground and 89 through the air on 6 of 9 passing. Schneider led the Canfield rushing attack with 95 yards on 13 totes.
Coach Donadee cited the offensive line play of AJ Murphy, Evan Parker, Dom DiDonado, Augie DiMartino and Jimmy Scharrer as a key to victory.
More like this from vindy.com