A dream come true at Margherita's Grille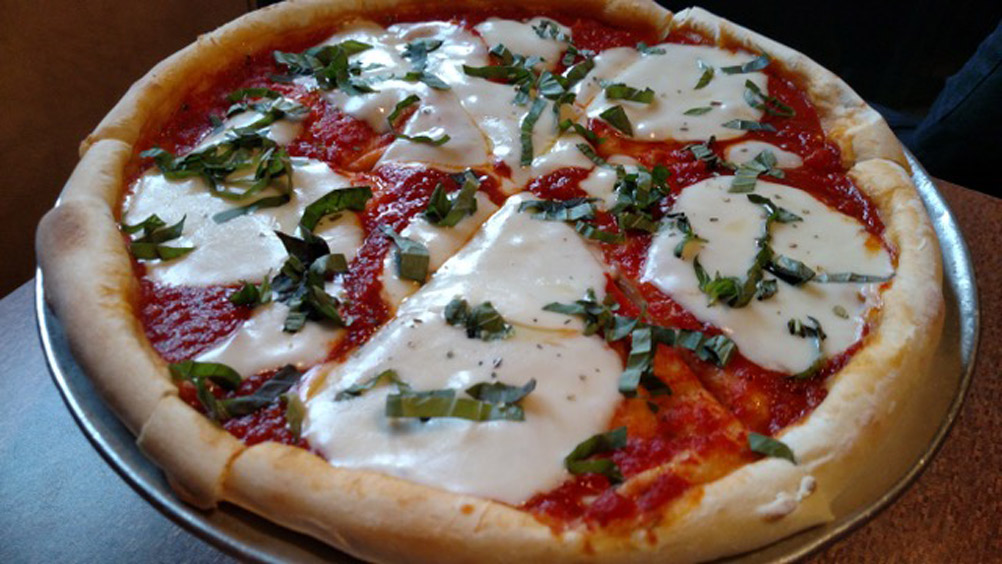 ---
If You Go...
What: Margherita's Grille
Where: 28 North State Street Girard, Ohio
Phone: 330-545-2424
Website: margheritasgrille.com
Hours: Mon – Thur: 11 a.m. – 9 p.m.; Fri: 11 a.m. – 10 p.m.; Sat: Noon – 10 p.m.; Sun: Special Events
With cooking skills taught by a mother, with a name for the restaurant inspired by a grandmother, Jorge Carreno and his wife , Amy, are cooking for success at Margherita's Grille in Girard.
Margherita's Grille recently celebrated its 10th anniversary. The story of how it came to be is one filled with a sense of appreciation. Chef Carreno was born and raised in Mexico City. Jorge relayed that at age 7, he began working with his mother in the kitchen. His mother taught him the basic work skills that would serve him later on in life. At 19, he decided to visit a friend in Warren with the intention of staying for only a year, working long enough to save money for college. He worked in a variety of roles in the restaurant business, from dishwasher, prep cook to running various stations in the kitchen. During this time Jorge met Amy Simeone, his future wife. He and Amy decided in early 2006 to move to Mexico after the end-of -the-year holidays. In December of that year, Amy's father Giovanni made an offer to help them open a restaurant in Girard.
Within 24 hours, Jorge and Amy decided to stay and remodel Little Pipino's restaurant and open Margherita's, named after Amy's grandmother. Jorge recognized the help of his mentor, Henry Barrios, former chef at Alberini's, in learning aspects of running his own kitchen. Margherita's menu features Italian dishes, all made to order. The primary menu is supplemented with a special menu that changes every two weeks.
As we looked at the menu, we couldn't help but notice the numerous pizza choices. Jorge felt we should try his Signature Margherita pizza. He explained they make the dough in-house, and the pizzas are cooked in a stone oven. The pizza has only a few quality ingredients including Margherita (red) sauce, fresh buffalo mozzarella and fresh basil. The red sauce is made by pan frying ground tomatoes with onions, garlic, olive oil and fresh herbs. The pizza was crispy with a chewy crust. The red sauce tasted fresh and went well with the cheese and herbs. A nice version of a classic.
Jorge explained that just about everything is made in house including the soups. We decided to sample two. The pasta fagiole and the lobster bisque. The fagiole is made using carrots, celery, onions, garlic, Northern beans, vegetable broth and a touch of red sauce with ditalini pasta. The broth had great flavor, and the beans were tender. We added a little red pepper flakes for spice. A tasty offering.
The bisque was next. Bisque is a smooth, creamy soup made with shellfish. The soup had pieces of lobster and just the right amount of sherry. This did not disappoint. A comforting dish.
The soups were served with fresh Italian bread and a compound butter. The bread is made in-house daily. The butter is mixed with garlic and fresh herbs to give it an additional layer of flavor.
When deciding on entrees, Chef Jorge said we had to try their Signature Giovanni's chicken as well as the Fall Salmon off the specials menu.
First up was the salmon. This dish takes a skinless salmon filet and coats it in a house-made achiote marinade. Jorge takes achiote seeds and grinds them into a powder. He then mixes this with orange and lime juice, white vinegar and ground cloves. This paste is then used to marinate the fish. The salmon is pan seared then finished in the oven cooked medium. This was served over roasted poblano and spinach risotto. The risotto was perfectly creamy, and the rice still had a little bite. Chef explained he uses mashed potatoes in the sauce for the risotto to give it the creamy consistency. The fish was cooked perfectly and interestingly enough, it was the slight flavor of cloves that made the dish. This was about as perfect a salmon dish as we've had. Outstanding.
Lastly, we tried Giovanni's Chicken. Jorge takes escarole greens and saut s them with garlic and olive oil. He then adds Chablis wine and finishes it with a little butter. This is topped with a nicely grilled, blackened chicken breast seasoned with house- made blackened spice. Red sauce is added and this is all topped with a fried Hungarian pepper. The greens on their own were great. Tender and garlicky with a nice sauce from the wine and butter. The slightly spicy chicken was mellowed out by the red sauce. The pepper was fried tender and had a nice kick. This was a well-balanced, flavorful dish.
Our meal concluded with a pair of dessert offerings – Tiramisu and a slice of Tres Leches cake. The Tiramisu was light and scented with rum. The Tres Leches, as it name implies, contains 3 types of milk: condensed, evaporated and heavy cream. A deliciously rich and slightly decadent way to end a meal.
Chef Jorge began our conversation with the words, "Anything can happen in America." He feels blessed by those in his life that gave him opportunity, shared their knowledge and by the support of the community. Jorge's dream is a delicious gift to the rest of us. Margharita's Grille is worth the stop.
More like this from vindy.com