Man who caused boy's death with wrestling move gets life prison sentence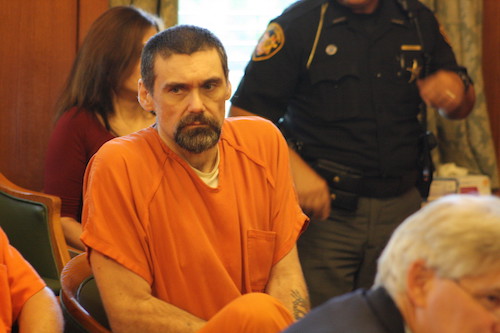 ---
By Ed Runyan
WARREN
Judith Owens asked Judge Peter Kontos to give Arthur Harper the maximum sentence for killing her 3-year-old boy, Russell Cottrill, in 2015 at their home on High Street Northeast.
"Since Arthur took my son, I've not lived a single day without pain," Owens told the judge Monday in Trumbull County Common Pleas Court before Harper, 45, was sentenced.
Harper was convicted at trial last month of murder, child endangering and felonious assault.
Owens was at work the evening of Nov. 28, 2015, when Harper, her common-law husband, called 911 to tell a dispatcher that Russell became unresponsive in his bedroom while he was taking a nap. Harper initially said he didn't know what caused the boy's head and spinal injuries.
But after hours of interviewing at the Warren Police Department, Harper admitted he had injured the boy by using a professional wrestling move on him called a "pile driver." Harper, who weighed more than 200 pounds at the time, told a detective he was "play rasslin'" with the boy at the time.
Harper explained he held Russell upside down with Russell's head between Harper's legs and Harper falling back onto the floor. It was about the fifth time he and Russell had done it that day, Harper said.
The boy suffered three separate injuries to his head, one of which would have stopped his breathing because of the damage it also caused to his spinal cord.
Judge Kontos said he actually had no leeway in the sentence he gave Harper – 15 years to life in prison.
"For this charge, there is only one sentence. It can't be more. It can't be less," the judge said.
Harper did not speak during the hearing, but his attorney, John Juhasz, said he thinks "Arthur didn't intend to do what he did."
But Judge Kontos said the "most appalling thing in all of this is that the injuries that were caused here were not an accident.
"There is no way it was done by one isolated action by you," Judge Kontos said. It was multiple actions, he said.
"You literally tossed this kid around, this poor child. His head hit the ground on many occasions in order to cause the kind of damage you did in this case. If it were up to me, you'd never see the light of day," the judge said.
Diane Barber, assistant county prosecutor, said the testimony of Dr. Joseph Felo of the Cuyahoga County Medical Examiner's Office showed that Harper's explanation that one badly executed pile driver caused the injuries isn't accurate.
It had to be multiple actions, and it's clear to her that the boy would have cried out in pain after any of the three injuries, she said.
The judge noted that Harper went to prison in New York state on a robbery conviction and also had charges involving domestic violence and criminal trespassing in his past, but the law didn't allow him to punish Harper more severely for having earlier convictions.
The judge also said the case should be a "life lesson" about meeting someone on the internet like Judith Owens did when she met Harper and allowed him to move in with her and her son about four months before her son was killed.
He recommended using the internet to do a criminal-background check to determine whether the person is safe to be around a child.
More like this from vindy.com