Undercover sex-trafficking operation results in 9 arrests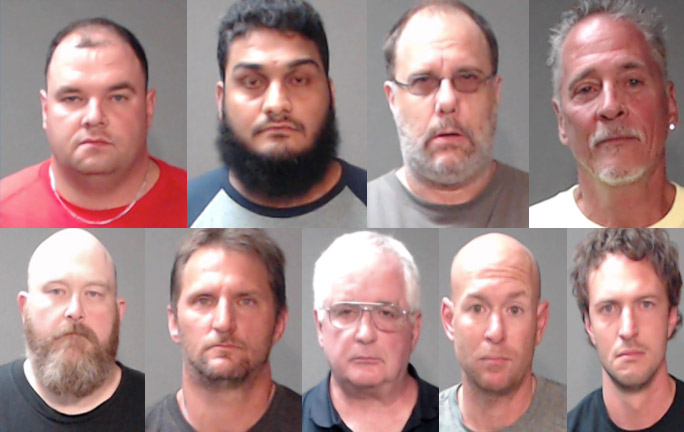 ---
YOUNGSTOWN — An undercover operation led by the Ohio Attorney General and Mahoning County Sheriff's Office last week resulted in the arrest of nine men, including one accused of arranging a sexual encounter with a person he believed was a juvenile.
Jamie Webb, 31, of Salem was arrested on charges of attempted unlawful sexual conduct with a minor, importuning, possession of criminal tools and attempted sexual imposition. Webb exchanged text messages with an undercover officer he believed was a 15-year-old girl, the Attorney General's Office said.
Sohail Awan, 31, of Youngstown; Michael Canaday, 53, of East Palestine; Joseph Geraci, 61, of Verona, Pa.; Ryan Grossman, 42, of Aliquippa, Pa.; Gary Harmon, 46, of New Castle, Pa.; Charles Hart, 63, of Cochranton, Pa.; Christopher Jones, 42, of Berlin Center and Paul McHugh, 32 of Salem were arrested on charges of soliciting.
Hart and Canaday also face charges of possessing criminal tools, and Awan faces charges of possession of a controlled substance and drug paraphernalia.
The suspects met undercover officers in Beaver Township.
"The demand for the sex trade is a major driving force behind human trafficking, and that is why undercover operations like this are so important," Attorney General Mike DeWine said in a news release. "We want would-be purchasers of sex to remember that they could be arranging to meet with law enforcement."
In addition to the Sheriff's and Attorney General's offices, the Austintown Police Department, Beaver Township Police Department, Ohio Adult Parole Authority, Mahoning County Emergency Management Administration, Mahoning County Prosecutor's Office, New Middletown Police Department, Ohio Investigative Unit and Ohio State Highway Patrol also participated.
The Attorney General's office plans to conduct additional undercover operations in the future.
More like this from vindy.com