Loss of right to speak lesson of Holocaust for today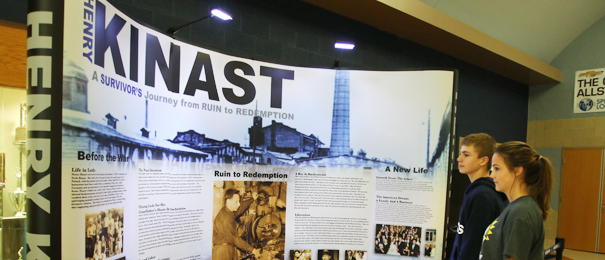 ---
By AMANDA TONOLI
atonoli@vindy.com
NORTH JACKSON
Jesse McClain of the Jewish Community Relations Council gave Jackson-Milton Middle/High School students a lesson about bravery in speaking out.
The school has been host to a traveling exhibit that tells local Holocaust survivor Henry Kinast's story. The exhibit details his experiences before and after the Holocaust.
His story involves his journey from Lodz, Poland, in 1939 to the Buchenwald concentration camp. After his liberation, Kinast ended up in Youngstown in 1955. His machinist skills learned in the Nazi concentration camps enabled him to find work, run a successful business and have a large and growing family – four children, 14 grandchildren and seven great-grandchildren.
Pictures, a video, text and maps also are part of the exhibit.
McClain, who lives in the Mahoning Valley, is a Holocaust educational specialist with the Youngstown Area Jewish Federation.
Although McClain's presentation was mainly about Kinast, it was not limited to just that.
"I've never thought of the Holocaust as a Jewish issue, but as a human issue because any of you can be attacked at any time for any reason," McClain said. "It wasn't the first genocide and won't be the last."
"It's getting more and more crucial a point to discuss," McClain added.
"People are scared to speak up, and that's what it was like during the Holocaust – people were losing their right to speak," he said.
During the Holocaust, those who weren't directly affected took the attitude that if it didn't affect them, they chose not to share their opinion, McClain explained.
Not only is sharing opinions and speaking out important, but so is understanding the value behind it, said Jeanne Reyes, American history teacher at Jackson-Milton.
"It's important just so they understand – regardless of their race, gender, sexual orientation or color – that everyone needs to be treated equal," Reyes said. "It's especially important as we are becoming a divided nation. Everybody's beliefs, views [and] values should be respected."
Taylor Sahli, an 11th-grader, said she appreciates being able to learn from the past.
"It's important because we are learning about things people went through – like our grandparents – and how they dealt with it," she said.
If other schools would like to host the exhibit, they can call McClain at the Jewish Community Center in Youngstown at 330-746-3251.
More like this from vindy.com