Friends indeed: Buddy Walk helps those touched by Down syndrome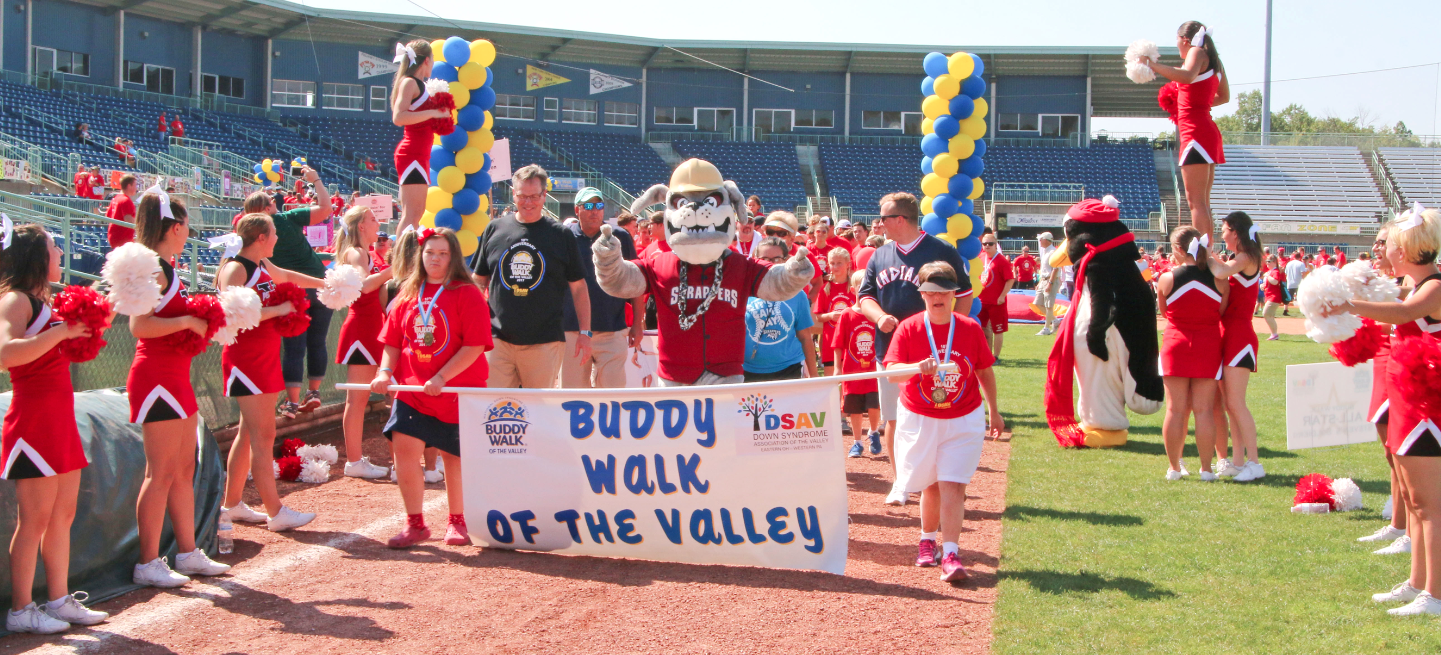 ---
By Jordan Cohen
NILES
Sweltering temperatures nearing 90 degrees were not about to stop Sandee Timmerman and nearly 2,500 like her from showing up Sunday at Eastwood Field.
The 10th annual Buddy Walk of the Valley, a major fundraising effort by the Down Syndrome Association of the Valley, brought them there. DSAV is a nonprofit organization that assists children with Down syndrome and the families who support them.
"It's not a bad journey, but it is a different journey," said Timmerman, who should know. The Austintown resident is the mother of three such children age 22, 20 and 19. She adopted all of them, as she did some years ago with another child, now 26, whom she describes as having "special needs."
Compared to that, the heat did not seem like much of a challenge.
"The Lord called on us to do this, but it's not for the faint of heart," she said.
Her 19-year-old, who recently began using a wheelchair, enjoyed the festive atmosphere. "I like it," he said.
The funds are generated from each participant who paid $13 to register while a number of businesses offered special donations. Debbie Williams, DSAV office and event coordinator, said nearly 93 percent of the money raised is allocated locally while the balance goes to the national organization.
According to information provided by the organization, the walk has raised more than $800,000 since its inception in 2007. About $85,000 has been distributed in the form of family grants for care needs. DSAV also has awarded 78 iPads to members.
Some of the colorful red and white T-shirts issued to all who registered bore the names of the 29 teams walking the half-mile from the stadium to the parking lot and back to home plate.
Anna Howells of Boardman led Elisa's Entourage, an 80-member team assembled to support her granddaughter, Elisa Procopio, 3, who has Down syndrome. Members of the team carried placards containing the little girl's picture.
"We can learn a lot from them," Howells said. "They are so loving."
"I think this is one of the larger crowds," noted Mahoning County Probate Court Judge Robert Rusu Jr., who has attended many of the walks. The judge explained that Ohio law requires probate court to appoint a guardian for those who are 18 and incapable of self-care.
One example is Timmerman, court-appointed guardian of her children.
Pattie Campos, who moved to Canfield from New York with her son Nicky in 2007, said she lacked a support system in her former environment. In the Mahoning Valley, she said, the opposite is the case.
"The atmosphere is more welcoming and inclusive," she said. "It's nice to go to a place [Eastwood Field] where everyone looks like my son."
While the goal is to raise funds, Ruth Tsikouris of Lowellville, mother of a 3-year-old son with Down syndrome, said the benefits from the Buddy Walk will go well beyond money and assistance.
"It's made me feel hopeful," she said as she watched her smiling little boy enjoying the attention of team members. "It gives me confidence my son will grow up in an environment where he's accepted."
More like this from vindy.com