Former steel workers reminisce, usher in inaugural Heritage Week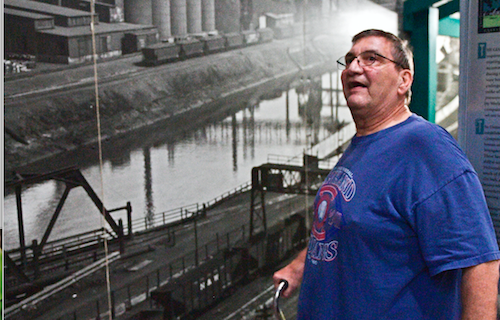 ---
By Sean Barron
YOUNGSTOWN
It's been slightly more than 40 years since the job Phill Datko loved was suddenly over, and even though he still laments the loss, he remains grateful for what it provided.
"It got me through life; it was the best thing that ever happened to me," the 68-year-old retired Cornersburg man said as he remembered having worked for Youngstown Sheet & Tube Co.'s Campbell Works before he and thousands of other steelworkers received the shocking news that most steel operations – and the way of life many of them knew best – would cease.
On Sept. 19, 1977, the day infamously known as Black Monday, about 5,000 workers instantly lost their jobs in YS&T's blooming mill and open-hearth furnace as well as its hot- and cold-rolled strip mills. The date also is widely recognized as the beginning of the demise of the major steel mills in the Mahoning Valley.
Datko shared some recollections of his life in the mills during a two-hour reunion for the region's former steelworkers Saturday at the Youngstown Historical Center of Industry & Labor, 151 W. Wood St., downtown.
The program also was part of the inaugural Steel Heritage Week.
Datko, who started at YS&T in 1968 and worked in the blast furnace, blooming mill and machine shop, recalled getting his apprenticeship and a skill set that allowed him to get other jobs soon after Black Monday. One was doing similar work at Commercial Shearing Corp., which later became known as Commercial Intertech before Parker Hannifin Corp. bought the company in 2000.
Accompanying Datko was his wife, Kathy Datko, whose father worked about 40 years for Jones & Laughlin Steel Corp.
"It's the smells, and it's the excitement, you might say," Rick Ritchie of Warren said about what he misses most from nearly 27 years of work for Copperweld Steel Corp., a Warren steelmaker later known as CSC Ltd. CSC filed for Chapter 11 bankruptcy protection in January 2001 before stopping its production a few months later.
Ritchie, who works in Youngstown State University's Bursar Hall, said he also misses the experience in the melt shop of combining a variety of materials to produce steel, a process he described as something that "doesn't happen in the natural world."
"It's the idea of taking a hunk of metal and melting it down to a liquid to make a certain grade out of that, then pouring it into an ingot [metal block] and squashing it to a bar, and it becomes part of a car," he said, adding that he also misses his co-workers and their camaraderie.
A challenge for Ritchie, who began his career as a laborer, was finding a "steady turn" in which he could work while pursuing a degree in economics from YSU. From there, he earned a master of business administration degree from Baldwin Wallace College in Cleveland and, after his career at Copperweld, worked for Winner Steel Inc. in Sharon, Pa., which was one of the country's largest independent producers of galvanized steel.
Also full of recollections was Carl Jacobson, event organizer. He worked many years for U.S. Steel's Ohio Works in Youngstown before it closed in 1980, then went on to Sharon Steel Corp. in the early '80s.
He played a 12-minute video made in the early 1960s that showed the intricate processes of converting molten iron and other materials to steel.
The film depicted operations in a coke plant and blast furnace in which the material flows through trenches called "runner ditches" to an open-hearth furnace, which were heated to more than 2,000 degrees. The molten material also went into huge ladles, each of which could hold up to about 312 tons.
"This was dangerous as heck," Jacobson said, referring to transferring the hot material from the ladles.
The film also showed how much of the material was made into ingots, which were placed in a specialized furnace with a temperature of about 2,300 degrees, then shaped into large slabs and piled atop one another.
Meanwhile, workers in a control tower closely monitored the activity, as well as the product's quality, explained Jacobson, who noted that the YS&T's Campbell Works' hot-strip mill produced a record amount of tonnage of steel about a month before closing.
Also at the gathering was Betty Cmil, a member of Angels for Easter Seals, an organization that a group of area women formed to support Easter Seals shortly after Black Monday.
The move was essential because the mill closings also meant that donations to Easter Seals had decreased dramatically, Cmil explained, adding that Angels' first fundraiser was a fashion show.
Angels for Easter Seals recently celebrated its 40th such event, she continued.
Sarah Lowry, Northeast Ohio regional representative for U.S. Sen. Sherrod Brown, D-Cleveland, read a letter from Brown in which he praised the resilience of workers who endured the hardships of massive job losses, as well as those who continue to work in the manufacturing industry.
It read in part, "Youngstown Sheet & Tube's Campbell Works abrupt closure on Monday, Sept. 19, 1977, cost 5,000 workers their jobs and devastated communities, families and the entire economy of the Mahoning Valley. Forty years later, manufacturing is still the heart of the Mahoning Valley's economy because of the strength, skill and determination of the workers who call cities like Youngstown, Warren, Struthers and Girard home."
The job market and economic times have changed considerably in the 40 years since Youngstown Sheet & Tube employees came to work for the last time, so Datko, the former YS&T worker, had a practical suggestion for those entering today's job market.
"My advice to anyone now is to stay in school and get your degree," he said.
More like this from vindy.com