Total domination by Western Reserve offense, defense
Mineral Ridge v Western Reserve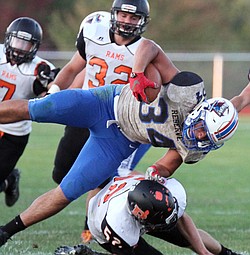 Gallery
By MIKE mclain
Berlin center
The Mineral Ridge Rams and Western Reserve Blue Devils brought identical 3-1 records into a Mahoning Valley Athletic Conference game Friday night.
The similarities ended there.
The Blue Devils scored on the fifth play from scrimmage and proceeded to open a 40-point halftime lead on the way to an impressive 53-7 win. Western Reserve quarterback Dominic Velasquez threw for 248 of his 251 yards in the first half, including all three of his passing touchdowns, and the Devils defense limited the Rams to 10 first-half yards.
Devils coach Andy Hake said before the start of the season that this is one of the school's best teams. He didn't back off after a 34-0 loss to South Range in Week 2, and his confidence in the players has paid off.
"We're getting better every week," Hake said. "We're getting younger kids that are coming on, and our older guys are really sharpening the knife. We play tough teams. Those teams make us better for teams like this."
Photo Gallery: Mineral Ridge v Western Reserve
The Devils (2-0 in the MVAC) present a difficult challenge to opposing defenses. Do you try to stop the runs of Jack Cappabianca, who will be a preferred walk-on at Ohio State, and Adam Gatrell, or do you try to limit Velasquez's pinpoint passing.
"It's phenomenal when you have a great receiving corps and phenomenal protection tonight," Velasquez said. "That's going to be the key moving forward. If I have a couple seconds of time, with our group of receivers we can really make something happen."
Velasquez threw a 6-yard touchdown pass to Caleb Quinn late in the first quarter as the Devils stretched their lead to 27-0. Velasquez added touchdown throws of 44 and 26 yards to Todd Henning in the second quarter to give Western Reserve a 40-0 halftime lead.
Prior to those three touchdowns, the Devils took a commanding 20-0 lead on scoring runs of 9 and 4 yards by Cappabianca and a 42-yard run by Gatrell.
The Rams (1-1 in the MVAC) played without the services of injured quarterback Dakota Edwards. It was a struggle until quarterback Jacob Lesko connected with Decosta Baptiste on a 17-yard touchdown pass with 11:48 remaining in the fourth quarter.
Ridge managed just 49 total yards and two first downs.
"I have the best defensive coordinator in the area in Jason Cochran, and I have the best defense," Hake said. "The kids play for him. The kids play for all of our coaches."
Scoring was curtailed in the second half as the game was played with a running clock. A 47-yard scoring run by Gatrell in the third quarter pushed the lead to 47-0. Hunter Kiesewetter finished the scoring for Western Reserve with a 4-yard run late in the fourth period.
The Devils finished with 450 yards of offense in winning for the third straight week
"He said, 'We're not going to let this happen again. We're going to move forward,' " Velasquez said of Hake's talk after the loss to South Range. "We turned the ball over a lot against South Range. You can't do that against good teams. We're trying to keep the ball in our possession and do everything we can."
More like this from vindy.com