Krukowskis mark 50th anniversary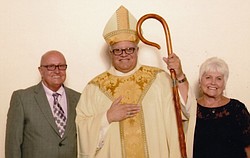 CONTRIBUTED PHOTO

Photo
Mr. and Mrs. Tony Krukowski were among couples who renewed their wedding vows in June at St. Columba Cathedral with Bishop George V. Murry, center, officiating.
LISBON
Mr. and Mrs. Tony Krukowski observed their 50th anniversary June 11 with family and friends at a special Mass celebrated by Bishop George V. Murry at St. Columba Cathedral in Youngstown.
Mr. Krukowski and the former Grace Toth were married July 15, 1967, at Christ the King Catholic Church in Ambridge, Pa.
The couple have two sons, Casey Krukowski of Madison Heights, Mich., and Kipp (Lluvia) Krukowski of North Lima. They also have four grandchildren, Zerek, Victoria, Zach and Ben Krukowski.
Mrs. Krukowski retired as a teacher assistant at Robert Bycroft School. She also worked as a registered X-ray technologist at St. Margaret's Hospital in Pittsburgh and at Salem Community Hospital.
Mr. Krukowski retired after 35 years in education. He was superintendent of Lisbon Exempted Village Schools; superintendent and principal with Southern Local Schools in Salineville and a teacher and coach in Lisbon.
The couple plan to further celebrate their anniversary with a family dinner cruise on the Gateway Clipper in Pittsburgh this month.
More like this from vindy.com