Canfield jumps on Struthers early to go 5-0
Struthers v Canfield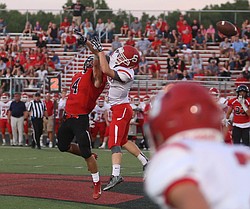 Gallery
Two first-quarter fumbles costly for Struthers in road loss
By Brian Dzenis
CANFIELD
Canfield needed less than a minute to take over Friday night's marquee matchup with Struthers. Two Wildcats fumbles in the first quarter gave Canfield a big enough cushion to win the battle of unbeatens, 34-12.
"All the pressure just went away, they had those two fumbles and our defense got right on them," Canfield quarterback Vinny Fiorenza said. "We just had to punch in the scores."
Photo Gallery: Struthers v Canfield
Struthers lost the ball on two of their first three offensive plays and to make it worse for Wildcats coach Curt Kuntz, they weren't even forced.
"It doesn't happen with good teams," Kuntz said. "We can't start like that against anybody, let alone a talented team with a lot of three-year starters that's really well coached."
On the Wildcats' second offensive play, quarterback J.D. Hall and running back Willie Mitchell botched a handoff that Canfield's Vinnie Giordano recovered at the Struthers 15. The recovery set up Paul Breinz's first touchdown on Friday.
Cardinals kicker Sam Accordino booted the ensuing kickoff for a touchback and then Struthers (4-1) lost the ball again when Hall and receiver Nick Adams flubbed a handoff. Tommy Kopnicky fell on the ball and Nick Crawford put the Cardinals up 14-0. The time between Breinz's TD and Crawford's was just 53 seconds.
"It's a credit to our defense, they were in the right place at the right time to recover those fumbles," Canfield coach Mike Pavlansky said.
Accordino did his part to help Canfield (5-0) consistently win the field-position battle. Five of his six kickoffs went for a touchback. Struthers did make the one return they had count as Adams ran 99 yards in the second quarter to break the shutout.
"Sam is a great weapon to have, but when he doesn't reach the end zone, we have to make those tackles," Pavlansky said.
Canfield's biggest defensive assignment on Friday was containing Wildcats running back Willie Mitchell.
Mitchell is being recruited by multiple Division I schools and has an offer from Bowling Green and he's been one of the area's better backs. While he increased his touchdown total to 11 with one score against the Cardinals, he rushed for just 37 yards on 13 carries.
"We just played our fundamental defense. It's just form tackling and making plays, you know?" Canfield linebacker Angelo Petracci said. "We filled gaps and holes and played sound football."
Struthers rushed for just 85 yards as a team. The Wildcats lost its best lineman in center A.J. Iarussi in Week 2, but the team has still been able to function, Kuntz said.
"You don't replace a two-year all-Ohio kid, you just have to have the next guy up do his job," Kuntz said. "He had nothing to do with the loss today."
Fiorenza passed for 124 yards and rushed for 42 in the victory. He ran for a 2-yard touchdown run with eight seconds left in the first half.
"He fits in a perfect system for the guys they have. He's a very good player. He had some good kick returns against us last year," Kuntz said. "He's a senior who waited his turn and a lot of kids don't want to do that now a days. He believed in the coaches and it's paid off for him."
The Cardinals got the ball back to start the second half and Breinz's 29-yard touchdown run in the third quarter was the final score of the game.
Matt Zaremski hauled in five passes for 90 yards for the winning side. Hall passed for 131 yards with one interception to Paul French for Struthers.
More like this from vindy.com