Raiders are all business when it comes to new schedule
South Range Blitz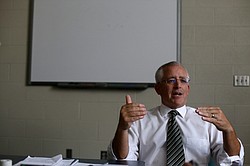 Gallery
League-less Raiders treating every week like a playoff game
By Tom Williams
BEAVER TOWNSHIP
South Range wide receiver Mathias Combs couldn't remember Jim Cantore's name, but he's well aware of The Weather Channel's ace storm reporter's reputation of facing Mother's Nature's strongest punches.
Two years ago, Combs' family lived in Fort Myers, Fla. Two weeks ago, The Weather Channel sent Cantore to Fort Myers as Hurricane Irma approached.
"My Mom said they're sending [Cantore], it's a bad sign," Combs said.
Photo Gallery: South Range Blitz
Amazingly, as if Irma chose to tweak Cantore with a Nelson Muntz "Ha Ha," the storm did its worst elsewhere. The Combs family did not receive bad news from friends and former neighbors.
"We got lucky — everyone is OK," Combs said. "Some of my friends just boarded up the house, some rode it out, some evacuated.
"It was pretty crazy," Combs said of the images friends posted on social media.
Combs and his football teammates have been charting a new adventure. After decades of membership in the Inter-County League and the Inter-Tri County League, South Range is an independent for this season and next.
Gone from their schedule are old familiar faces like Columbiana, Lisbon and United. South Range's beefed up schedule has replaced those Columbiana County schools with new challenges, including Akron Manchester, St. Clairsville, Sharon and Sharpsville.
So far, so good — these Raiders aren't playing around. Just like last season, the Raiders are 4-0 (thanks to one incredible comeback). They aren't looking back, believing they will be stronger playing bigger schools.
"I think every week we have to prepare more," senior linebacker/running back Peyton Remish said. "We're going up against a lot better players, a lot better coaching. I think that it makes us that much better."
Senior lineman Matt Brooks said football feels different "but I think we're ready for it. We want to go far into the playoffs and that [schedule] I think is going to help us a lot.
"We're playing a lot better competition, which I think is going to help us a ton," Brooks said.
Asked if it's been a fun ride so far, quarterback/defensive back Aniello Buzzacco said, "more stressful than fun because you're going against kids that you've never played before.
"Growing up, I always knew who was on Crestview's team, who was on Western Reserve's team, Springfield, but we go against Zanesville, I have no idea," said Buzzacco, who has sparked interest from Davidson (FCS) as a defensive back. "We've never heard of them — don't know where they are strong at, where their weak points are."
South Range's season began with wins over traditional rival Springfield (37-14) and Western Reserve (34-0).
Then came the game that they're still buzzing about. The first new test for the Raiders was on Sept. 8 against Akron Manchester, a perennial playoff team. Early in the second quarter, South Range, on its home field, in a brand-new stadium, trailed 24-7.
No one was worried about playoffs then.
"We were upset, but we never got discouraged," Buzzacco said. "We kept out heads up."
The 6-foot-1, 190-pound senior credited Remish and linemen Levi Taylor and Brian Robinson for helping him to inspire confidence.
"We can do it, we've made comebacks before," Buzzacco said of their message. "We just kept telling each other that we could score."
On their next possession, Buzzacco capped the drive with a 1-yard touchdown. Right before halftime, he hooked up with Combs for a 59-yard touchdown pass to make it 24-21.
"They were a playoff team, we wanted to make a statement," Brooks said. "We all just knew that it was time to wake up and start playing. We didn't want to lose. We knew if we want to get to where we want to be we had to win this game."
In years past, playing for a league title usually meant the Raiders were playoff contenders. This year is different.
"Usually right about now, we're talking about fighting for a league title," South Range head coach Dan Yeagley said. "We don't have that [anymore] so what we're really fighting for is Week 11.
"Every game is almost like a playoff game."
In the second half, Buzzacco scored on runs covering 26 and 51 yards, and Remish scored the winning points from the 11 for a 42-36 victory.
"We started wrapping up, we weren't getting 11 [players] to the ball," Remish said of the turnaround.
"It showed a lot of character, a lot of pride in the program," Yeagley said of the comeback. "Very proud of them."
After four games, Buzzacco has completed 37 of 65 passes for 813 yards. He has nine touchdown passes (seven to Combs) and one interception.
"[His skills] make my job a little easier because he's so athletic," Combs said. "He can run the ball and throw the ball so well."
Buzzacco said of his favorite target: "I know if I put it anywhere close to him and I put enough air under it, he'll catch it."
Remish has rushed for 435 yards while Buzzacco has scrambled for 218.
"It's not like [the opposing defense] can play back, keep their coverage," Combs said. "They have to have guys up ready [for the run]."
Last week, the Division V Raiders defeated Division III Zanesville, 31-13. Yeagley said preparing for the unknown is challenging but "rejuvenating.
"It is different, going against different teams and different coaches that you really don't know," said the Raiders' head coach since 1995. "You're reaching out to other people trying to find out a little bit about them. They are doing the same with us.
"Twenty-plus years into coaching and it is exciting," Yeagley said. "New adventures, new travels — we've never had a team travel two-and-a-half hours to come and play us. We've never traveled [as far as] St. Clairsville.
"We walked into [the Zanesville] game having seen them on film, but not really having seen them, not really knowing what they do."
More than ever, Yeagley said he's relying on his assistant coaches.
"I'm sending them all over the place just to prepare," Yeagley said. "[There are] extra hours we have to put in because there are a lot of unknowns.
"The reason for our success sits in this room."
More challenges await. In addition to games against new opponents, the Raiders' standout kicker Brandon Youngs suffered a severe leg injury in Wednesday's soccer game against Ursuline. His skills will be missed.
If the Raiders win all 10 games, they should host a playoff game in their new stadium. Nine might be enough. Eight might mean a playoff berth. Seven might not.
After tonight's game with Brookfield, the Raiders will play Crestview, the other former ITCL team that does not have a league of its own this fall.
After that, it's more of the unknown for the Raiders. They finish against Sharon (2-2), Kenmore-Garfield (0-4), St. Clairsville (3-1) and Sharpsville (3-1).
"Every game [down the stretch] is basically a playoff game," Yeagley said.
Combs said the Raiders are ready for something new.
"It feels good being 4-0 like last year, but I'd say its different," Combs said. "We're playing better talent."
You might think the former Florida resident was unhappy when his parents decided to move back to Ohio (Combs spent his first three years in the Mahoning Valley).
"More excited than I was bummed," Combs said of saying goodbye to the Sunshine State. "My favorite place to vacation was Ohio, coming here.
"I like having all of my family here. A lot of them got see me play football last season — that was pretty cool."
Combs and the Raiders are hoping to give them at least one extra week of football in November.
More like this from vindy.com