Tyler center panel, audience recall Black Monday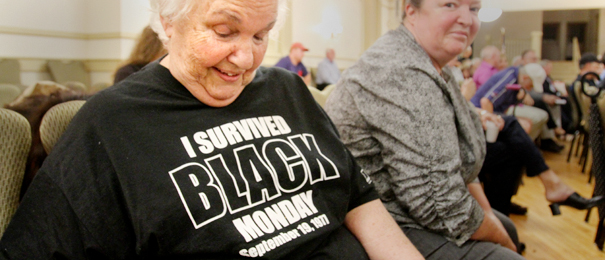 ---
RELATED: • Steel loss continues into 2000s
• Lawyer recalls effort to keep steel alive
By WILLIAM K. ALCORN
alcorn@vindy.com
YOUNGSTOWN
Richard Huber, a metallurgical engineer who worked in numerous area steel mills that closed down during his long career in the steel industry, nodded his head in agreement as he listened intently to local historians and community leaders on a panel to discuss "Remembering Black Monday: 40 Years Later."
The 90-minute discussion and question and answer session was sponsored by the Mahoning Valley Historical Society and the Youngstown Historical Center of Industry and Labor on the 40th anniversary of the day Youngstown Sheet & Tube announced that its Campbell Works was closing.
Huber, one of about 100 who attended Tuesday's event at Tyler History Center, worked at so many mills that closed that when he showed up on a job, his fellow employees said, "Oh no."
Others in the audience shook their heads in comprehension as the panelists described the enormity of YS&T's act and what it meant.
Sept. 19, 1977, is like Sept. 11, 2001, and Dec. 7, 1941: "Dates you never forget," said Bill Lawson, executive director of the Mahoning Valley Historical Society and moderator for the panel comprising Donna DeBlasio, Youngstown State University professor of history; Carl Jacobson, former steelworker; and William Farragher, who is 95 and still working for McDonald Steel Corp. in McDonald.
"McDonald Steel is still making good money," said Farragher, who worked in public relations and marketing at Sheet & Tube and started his own marketing and advertising firm after leaving the steel industry.
"We could have done what McDonald Steel did with other mills here. Closing them was a horrible mistake," Farragher said.
"On Black Monday, we all had the same heartbreak. We knew steel was through," he said.
"I was panicked," said Carl Carbon of Poland Township, who grew up in Struthers and went to work at Sheet & Tube immediately after serving three years in the Marine Corps. "I had a wife and two kids and didn't know how I was going to take care of them," said Carbon, who attended Tuesday's event.
Jobs in the steel mills tended to be a family thing, said DeBlasio, who grew up in Youngstown's Smokey Hollow neighborhood.
Grandfathers, fathers and sons often worked alongside each other, she said.
For many, working in the mill was more than a job, as revealed by some of the oral history DeBlasio read.
"Life-long friendships: What I miss today is the men," said one.
"We had a wonderful experience in the Mahoning Valley with steel. But, we have a YSU, a great university and the Youngstown Incubator, both things to build on. I think the Mahoning Valley has a wonderful future," said Farragher.
More like this from vindy.com