Youngstown candidates: Improving business climate key to progress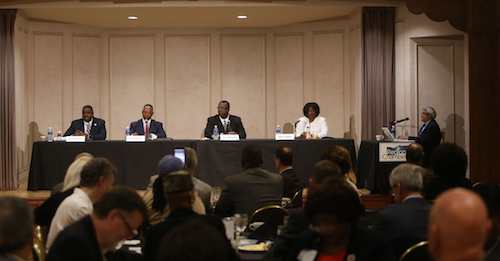 ---
YOUNGSTOWN
For Youngstown to progress, the four mayoral candidates agree improving the city's business climate is key.
The candidates said Tuesday at a Youngstown/Warren Regional Chamber Government Affairs Council forum at Stambaugh Auditorium that growing and retaining businesses are critical to the city's future.
The candidates are Democrat Jamael Tito Brown, and three independents: Janet Tarpley, Sean McKinney and Cecil Monroe.
Bertram de Souza, The Vindicator's editorial page editor, served as moderator.
Brown, a former city councilman and council president, said he wants to put together an economic advisory committee of business leaders to help attract companies to the city.
"When I talk about a new Youngstown, I talk about jobs, safer neighborhoods and reinvesting in our community," he said. "We're talking about recruiting and marketing and making sure we grow. When I talk about recruiting, I want to put together a team of ambassadors like Columbus and Akron. They're having great success when they have those ambassadors going out and recruiting. They're stopping at trade shows, talking to grocery stores trying to get them to come to Columbus and Akron. I want to make sure we use that same model in Youngstown."
McKinney, a former city buildings and grounds commissioner, said his administration would build an aggressive economic-development team that promotes the city's assets.
"I hope the business leaders truly see the passion my administration would bring to the city of Youngstown," he said. "We must focus on a better education system. We must focus on making Youngstown safer. We must definitely focus on aggressive economic development and investment. We must focus on investing in our neighborhoods, and one of the main things that I personally believe the mayor of Youngstown must focus in on is you must cross the aisle and talk with Republicans and Democrats as well as independents to get anything done in the city of Youngstown."
Tarpley, a former councilwoman, said she would market Youngstown and conduct an economic-development plan that would analyze the city to determine what kind of businesses are good fits.
"I'm the only one who offers some real ideas when you talk about alternative revenue streams coming to our city by using garbage collection and offering it to other communities," she said. "I don't see anyone else with any new ideas. My ideas are more progressive than the rest of the candidates'."
Brown and Tarpley said they want the city to hire lobbyists in Columbus and Washington, D.C., to find grants and other money for Youngstown.
Munroe, a Youngstown school substitute teacher and preacher, said he'll make Youngstown more pro-business and his outsider status is a benefit.
"I bring no connections," he said. "My opponents have decades of experience [combined], and it hasn't amounted to anything."
The four are running in the Nov. 7 general election to replace John A. McNally, a first-term mayor and former Mahoning County commissioner who lost to Brown in the Democratic primary in May.
More like this from vindy.com