Dough House Cookies seeks to satisfy your sweet tooth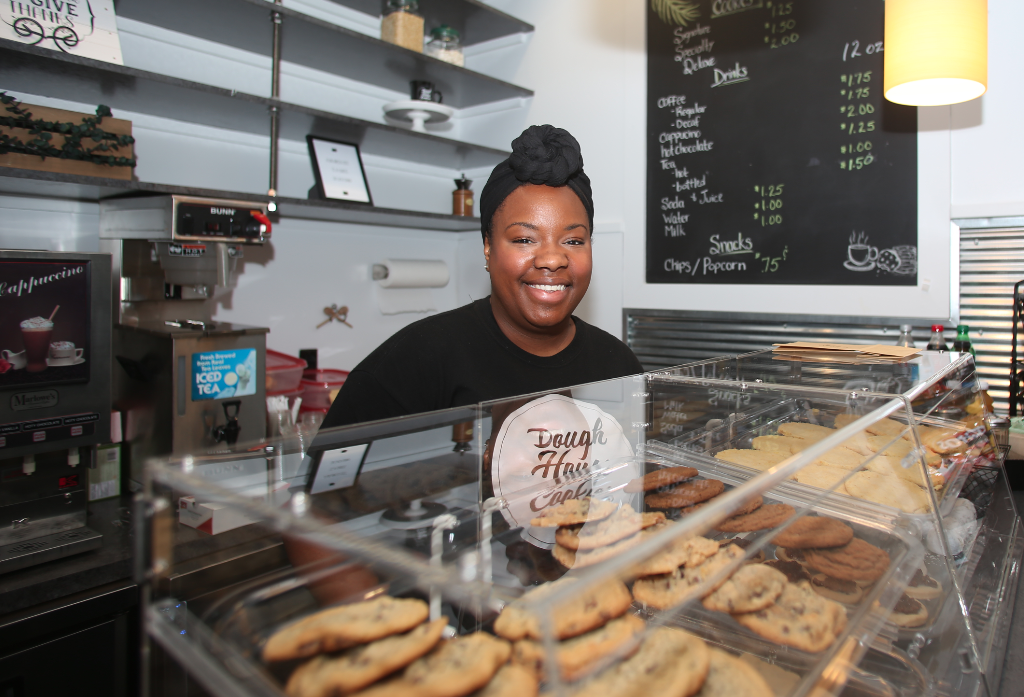 ---
By Billy Ludt
CANFIELD
A Youngstown woman's home-baking business hopes to satisfy the sweet tooth of library patrons specifically and the Mahoning Valley in general.
Dough House Cookies had a grand opening Monday morning for its first storefront location at the Canfield Library, 43 W. Main St.
Dough House owner and operator TaRee Avery's career in cookies began when she moved to Nashville, Tenn., and started the Nashville Cookie Bar.
She returned to the Youngstown area in November with a range of established family recipes, and some new ones, too.
"When I decided to bake cookies, I knew I wanted to continue the traditions because that's what I was raised on," Avery said.
Changing the name to Dough House, Avery said, was necessary for her homecoming. She said she wanted to make the name evoke a sense of home, the place she originally learned to bake cookies.
Many of the recipes Avery uses were handed down to her by her grandmother. She picked up some more in Tennessee and developed others from her travels in other parts of the U.S. and in Europe.
"We're going to hit a lot of great things about Ohio in the fall," she said. Customers can expect apple, pumpkin and maple-flavored cookies this season.
In her three- to five-year plan, Avery said having a storefront was set for longer down the road. Instead, her home-baking business opened the storefront in nine months.
She enrolled in the Women in Entrepreneurship program through the Youngstown Business Incubator.
"There just seemed to be a hope for change in the city," she said.
She said the experience helped her gain a better understanding of the financial side of business.
Nashville, she said, has a lot of active baking businesses, making resources for her own at the time more difficult to obtain. Back in the Youngstown area, that hasn't been a problem.
Since its soft opening Sept. 12, Dough House has nearly sold out of cookies every day.
"For nobody really knowing that we're here yet, we're doing really well," she said.
She attributes the business' sales to the number of activities that happen daily at the library.
While she said she doesn't have a favorite cookie, Avery said she is most proud of cookie brittle, a recipe she came up with herself. It is a mix of Biscoff cookie spread and praline pecans.
"My family is here in Youngstown," Avery said. "I wanted to come back and be part of the tremendous revitalization I saw here when I returned."
More like this from vindy.com