Youngstown still reeling from effects of Black Monday
---
Black Monday: One story never forgotten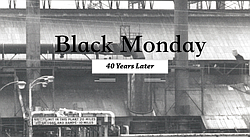 Video
Vindicator staff recall one Black Monday story that they will never forget
YOUNGSTOWN
The shocking closing of Youngstown Sheet & Tube Co.'s Campbell Works on Black Monday, Sept. 19, 1977, left the Mahoning Valley at the epicenter of the downfall of the steel industry.
Steel didn't just collapse here. It was a national issue.
Youngstown State University professors who have made the demise of big steel the object of their research, a former Vindicator reporter who rode his local coverage of the post-Black Monday steel industry locally and nationally to a job with the Wall Street Journal's Pittsburgh office, and others deeply involved in the traumatic events that literally destroyed the local economy and was a precursor of things to come in big steel, weigh in on its causes and effects.
Video: Black Monday: One Story Never Forgotten
VIDEO SET: Steel industry in the Valley
Even with a strong automotive manufacturing presence in the form of the General Motors Lords- town Complex and Delphi Packard Electric, a failing steel industry left huge holes in the economy and in the psyches of many thousands of steelworkers who lost their identities and their on-the-job second families.
Many blamed management for not reinvesting in and modernizing the local mills.
Donna M. DeBlasio, a professor of history and director of the Center for Applied History at YSU, said, however, failing to reinvest in local mills was just one of a confluence of conditions and events that brought down big steel.
Though the communities were shocked and surprised by the loss of thousands of jobs in a relatively short period of time, there were signs all was not well in the industry, said DeBlasio, a native of Youngstown.
"As we got into the 1970s, workers were cannibalizing older facilities for parts to keep other mills operating," said DeBlasio, who received her bachelor's and master's degrees from YSU and her doctorate from Kent State University. "I think there was a feeling that something was wrong."
"In 1977, we were working in production facilities that had World War I technology," said Gerard Dickey, a steelworker and union leader.
Dickey, a 1963 graduate of Struthers High School, also noted that while in the past the mills were locally owned by people interested in the community, in the 1960s, conglomerates – companies that have interests in several fields – began to own local steel mills.
"What we lost was old money and leadership," he said.
Lykes, which was a steamship company, took over the much larger Sheet & Tube.
"Before that, we had local managers. That was the beginning of the end. Lykes drained us dry," said Dickey, who pushed the unsuccessful idea of the employees buying and running the mills themselves.
Workers also had to deal with having their livelihood snatched from them.
"You take away a man's job, you take away everything, especially the older workers. They were not as young, and their skills didn't transfer. Most never found jobs as good as the ones they had in steel," Dickey said.
"One thing we had in common: All our kids left" the area, he added.
"Steel was so fundamental and seemed so durable that people couldn't see the storm clouds. But they were certainly gathering," said Thomas Petzinger Jr., former Vindicator and Wall Street Journal reporter and now executive vice president of business development for Knopp Biosciences LLC in Pittsburgh.
"Steel imports from Japan were beginning to overwhelm the market. High labor costs were pricing steel from Youngstown out of the market," Petzinger said. "The mill owners had failed to modernize their plants, making them less competitive. The immediate aftermath of Black Monday was disbelief and denial."
"The steelworkers and their communities had to start over again," said DeBlasio, whose employment with the Youngstown Historical Center of Industry & Labor Museum gave her more insight into the era.
"I became fascinated and read a lot and talked to a lot of people who were dealing with something as painful as Black Monday," she said.
Another important leg of the confluence of events that negatively impacted the steel industry was that it was joined at the hip to the auto industry, steel's biggest customer.
Family vehicles were smaller, and they contained more plastic or fiberglass.
"There was less steel in cars," she said.
In his book, "The Fight Against Shutdowns: Youngstown Steel Closings," Atty. Staughton Lynd gave numbers to the enormity of the blow to the Valley.
"Each fall from 1977 to 1979, a major steel mill in the Mahoning Valley announced its intention to shut down. The numbers of workers permanently laid off at the three mills was about 10,000: 5,000 at Youngstown Sheet & Tube's Campbell Works; 1,500 at Jones & Laughlin's (formerly Sheet & Tube's) Brier Hill Works; and 3,500 at United States Steel's Youngstown Works," Lynd wrote.
Part of the problem was the rapidity of the mill closures from the peak year of production in 1973 to the beginning of the mill shutdowns just four years later, said Dr. Thomas E. Leary, associate professor of history and applied history in YSU's history department.
Economic and personal recovery were going to take a switch from manufacturing to service industries, such as education and medical.
"Even where manufacturing is still present, it requires much fewer people," Leary said.
The question is, how do you replace all those good-paying jobs? DeBlasio said.
College is not the entire answer and neither are the trades. There has to be jobs for others with all skill levels that pay enough to keep a roof over their heads and food on the table, she said.
"I don't know the answer," said DeBlasio, but she said she is encouraged that Youngstown's downtown is coming back. "That's awesome."
More like this from vindy.com