Poland Twp. worker faces theft charge, placed on leave
POLAND
Beatty Incident Report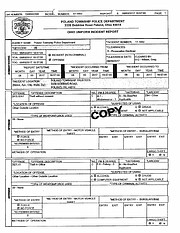 Document
Poland Township police department Incident Report 17-1852: theft charge against a township road department worker.
A township road department worker facing a theft charge over an allegation he stole township property has been placed on administrative leave.
The township trustees voted unanimously at a meeting Wednesday night to put Raymond Beatty, 28, on paid administrative leave, pending the outcome of a pre-disciplinary hearing.
Township police earlier in the day filed a misdemeanor theft charge against Beatty in Struthers Municipal Court, where he is scheduled to appear Sept. 22.
Beatty is the son of village police Chief Russell Beatty Jr.
The charge follows an investigation that began after Trustee Eric Ungaro reported an anonymous tip to police Aug. 3. The tip alleged Beatty had taken "an unknown amount of road grindings" from the road department building to his house, according to a police report.
The tipster alleged the grindings were "transported to Beatty's residence by an unknown, private company," according to the report.
"That's my job to report anything that I hear," Ungaro told The Vindicator. "There happened to be some substance, and that's where we're at now."
After the meeting, township road Superintendent Tom Monus told a reporter seeking to ask questions about the incident, "I don't do interviews."
Bob Lidle, trustee board chairman, said the township has numerous uses for road grindings.
"They're a residual of road paving, which can be recycled and made back into a lesser-grade road surfacing," he said.
He said there are other functions for road grindings, likening them to topsoil – something for which you might not have an immediate purpose, but which you might save until you need it.
"There is a value to it. It takes a little bit of accumulation," he said.
Lidle said township officials believe Raymond Beatty was "giving it away and/or using it for personal reasons."
He added, "It's very important for everybody in Poland Township to understand that we are following all the proper procedures with respect to this."
Lidle said after the police got involved, township officials sought a Mahoning County prosecutor's opinion on the matter. The next step, he said, is going through the process outlined in the collective-bargaining agreement between the township and the road department.
That process includes a pre-disciplinary meeting, which is required when the township "determines that a nonprobationary employee may be suspended, reduced in pay or position, or terminated," according to the agreement.
"The employee shall have the opportunity in this meeting to respond orally to the charges prior to discipline being imposed," it states.
More like this from vindy.com