Out-Spokin' Wheelmen to host ride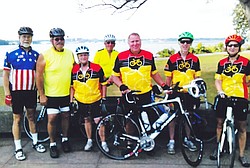 CONTRIBUTED PHOTO

Photo
Above, members of the Out-Spokin' Wheelmen, from left, are John Nagy, Greg Merritt, President Mary Merritt, Bob Murwin, Neil Betts, Kelley Walker and Treasurer Lynn Baker. The group will sponsor an invitational ride Sunday.
Staff report
WARREN
The Youngstown area cycling club, the Out-Spokin' Wheelmen, will host its 44th annual Northeast Ohio Century invitational bicycle ride Sunday. If riders follow all of the loop circuits around Cortland and Bazetta, they could travel more than 100 miles by the end of the day.
The event begins and circulates back to the Trumbull County fairgrounds on Everett-Hull Road. Registration is from 7:30 to 11 a.m., and most riders will be on the roads from 8 a.m. to 3 p.m.
Motorists are advised to watch for cyclists, especially on state Routes 46, 88, 87 and 305 and along Hoagland-Blackstub, North Park, Ridge and Warren-Meadville roads. Riders are from Northeast Ohio and western Pennsylvania, and most will be highly visible in their colorful cycling outfits.
The club reminds drivers that under Ohio law, a bicycle is considered a vehicle and has a legal right to access public roads. By law, a motorist must give at least three feet of clearance when passing a bicycle. More information about NEOC and the club can be found at www.outspokinwheelmen.com.
More like this from vindy.com