Candidates tell crowd plans for improvement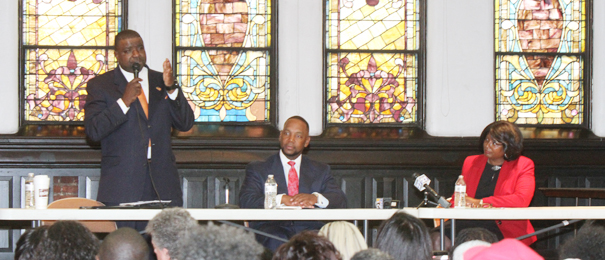 ---
By DAVID SKOLNICK
skolnick@vindy.com
YOUNGSTOWN
Three of the four mayoral candidates talked about what needs to be done to make Youngstown a better city during a Tuesday forum.
Democrat Jamael Tito Brown, a former city council president and member, along with two independent candidates: Janet Tarpley, a former councilwoman, and Sean McKinney, a former city buildings and grounds commissioner, answered questions for about 90 minutes at First Presbyterian Church on Wick Avenue at an event sponsored by The Salon, a local progressive women's organization.
Cecil Monroe, another independent candidate, didn't attend Tuesday's event.
The four are on the Nov. 7 ballot.
Brown said he envisions a "new Youngstown," with thriving businesses, improved neighborhoods and an investment in the youth. That can best be done, he said, by having him as mayor.
"Our message is all about livable-wage jobs, safer and brighter neighborhoods, providing opportunities, and promoting diversity and transparency," he said.
Tarpley said, "My main point is I'm the most experienced leader. I'm the one who can take the city to the next level. We've done a great job downtown, but we need to move it to the neighborhoods now."
McKinney said the city is "at a critical moment. We need to make sure that we choose the right candidate to lead us forward. It's about education, making Youngstown safer, quality of life, neighborhood development, infrastructure. The next mayor of Youngstown needs to reach across the aisle. If we don't, Youngstown will stay in the state that it's in and it won't grow as fast as it should."
McKinney also said education is a top priority because if that improves, crime will diminish and the quality of life will improve.
"If we never raise the education [level] of our children, we'll never progress," he said.
Brown said the biggest problem the city is facing is poverty. Improving education and giving people access to fresh produce through a central grocery warehouse system will lower the city's poverty rate, he said.
Tarpley also listed education as a top priority, adding that the school system should be focusing more attention on teaching students about trades and skills in order to train those not going to four-year colleges for good-paying jobs.
When asked about the city's financial struggles and the importance of safety forces, all three candidates said that they would do everything possible to avoid laying off police officers and firefighters.
Brown said he'd look at making cuts in departments while McKinney said not replacing equipment and looking at the budget for other reductions would come first. Tarpley said the city needs to find other ways to bring in revenue, such as expanding the citywide residential garbage collection program to other communities.
When asked about joint economic development districts in which the city would provide water to surrounding communities in exchange for accessing income tax, the three candidates said they support that proposal.
Tarpley said the city can use "our power and position" like an "atomic bomb." Just because "we have it doesn't mean we have to push the button," she added, saying Akron has been successful in using JEDDs to grow economically.
Brown pointed to Columbus as an example of successful annexation, saying it, along with JEDDs, should be on the table.
"Youngstown needs to benefit from the deals," he said. "Youngstown should be first."
McKinney said the city first needs to attract more grocery stores, grow economically and improve its infrastructure before tackling JEDDs and annexation, which he supports.
More like this from vindy.com