Adaptive sports organization offers free clinics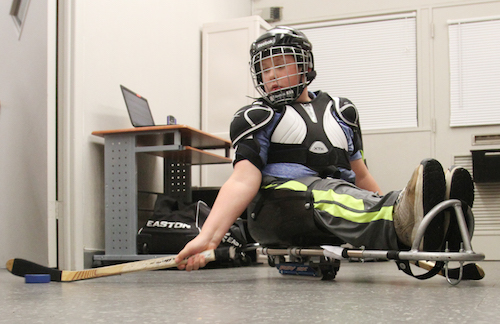 ---
YOUNGSTOWN
Sit. Eat. Go to bed.
That used to be the daily routine for Aiden Morrow of Champion.
He didn't know what else he could do.
"I didn't think highly of myself," said Aiden, a bright, talkative 10-year-old who relies on a wheelchair.
That was until his mom, Crystal, made him try sled hockey, a version of ice hockey that is adapted for people with physical disabilities.
"I took him kicking and screaming," Crystal recalled. "I said, 'You need to know there are other things out there besides television.'"
Now, Aiden can't get enough of the sport, which is offered by Adaptive Sports Program of Ohio. It's one of three adaptive sports for which ASPO will offer free clinics in the coming weeks.
The events are:
Sled Hockey Clinic, 3:15 to 5:15 p.m., Saturday, Boardman Ice Zone.
Wheelchair Basketball Clinic, 4:30 to 7 p.m., Sept. 24, Arlington Heights Recreation Center in Youngstown.
Power Wheelchair Soccer Clinic, 6:45 to 8:30 p.m., Oct. 22, also at Arlington Heights Recreation Center.
For sled hockey, participants are strapped into low-sitting sleds, from which they slide around the rink and – just like nonadaptive ice hockey – use a hockey stick to hit a puck.
ASPO's programs are open to anyone with a physical disability. The clinics precede full seasons of the sports.
In addition to sled hockey, basketball and soccer, ASPO offers numerous other adaptive sports, including tennis and softball. The cost is $200 to register for one sport, $100 for a second sport and $50 for a third. For more information, visit www.adaptivesportsohio.org.
Cara Hahn, ASPO program manager for Mahoning County, said participants can sell raffle tickets to defray registration costs. ASPO also accepts applications for financial assistance.
She said the programs go well beyond the physical aspects.
"It's for the sport, and it's for the physical work, but it's also about building friendships," she said.
Aiden and his mom are both quick to recommend that other people with physical disabilities try sled hockey or one of ASPO's other programs.
"I would tell them, 'Do it.' Because it's fun to do," said Aiden. "It's something you can do besides sitting on the couch and relaxing, which is what I used to do."
"It shows him there are other people out there. Just because you're in a wheelchair or use an assisted walking device, doesn't mean you're limited in your every day life," said Crystal. "You just have to have the ability to want to do it."
More like this from vindy.com