Indie filmmaker thinks Youngstown good place for creative efforts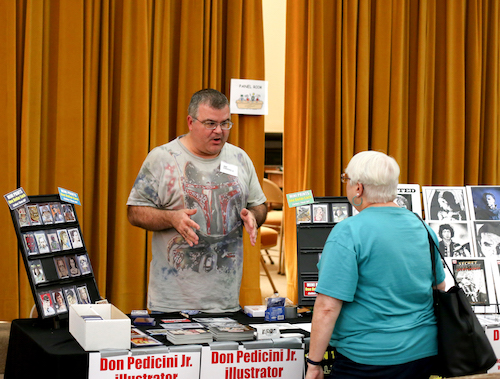 ---
YOUNGSTOWN
The third annual Youngstown Indie Creators Expo attracted artists from the area who wanted to rub elbows and network with like-minded people who see no reason why the Mahoning Valley can't be the birthplace for everything from original comics to independent movies.
Vendors and other artists gathered at the Expo Saturday at First Presbyterian Church to sell their creations to each other and the general public and learn the business end – how to make a buck – with their creations.
Among those making presentations was John Chechitelli, a native of Austintown, who made a pitch for local financial and social media support for his proposed film, "Worst Christmas Ever," a story that follows Sophia, a teenager whose whole life snowballs out of control after discovering that she's pregnant one Christmas Eve.
Chechitelli's film was chosen by the Mahoning Valley Film Initiative, a local organization of Northeast Ohio filmmakers, to represent it in a national competition for a $25,000 grant to finance the film to be written and directed by Chechitelli.
The "Worst Christmas Ever" campaign to raise the minimum $7,500 and 500 website followers required to be eligible for the grant begins Tuesday and runs through Oct. 13.
Chechitelli, who graduated in 2003 from Austintown Fitch High School and studied filmmaking at Full Sail University in Florida, said he couldn't wait to get out of Youngstown and head for Los Angeles and a career writing and directing for Fox Sports.
But he came back to live in Boardman in 2016 with his wife and two young children and wrote "Worst Christmas Ever."
He is convinced a movie can be made anywhere and wants to make his in the Mahoning Valley.
People 18 and older who want to help the Mahoning Valley Film Initiative are asked to visit www.seedandspark.com/fund/youngstown to sign up, follow and contribute.
In addition, Youngstown's Ray "Boom Boom" Mancini, former lightweight champion, whom Chechitelli says is his mentor, is helping the Mahoning Valley Film Initiative gain campaign contributors by offering a one-time boxing class in Youngstown. Thirty $250 passes are available for the Mancini boxing lesson to be scheduled on a weekend in January.
Robie Vegas, a pseudonym for an Akron comic illustrator, attended the Creators Expo to sell some of his comics that feature "Mr. Cathy," which he described as having both sadness and humor and sort of a combination of "Garfield" and "Cathy,"
He is following the advice of local comics guru Chris Yambar to network with other comics creators.
"You need a character with an identity. You need to network in this industry and not be afraid to ask questions," said Yambar, who is associated with "Simpsons," "Popeye," "SpongeBob" and "Mr. Beat."
More like this from vindy.com