Meshel recalled as mentor, leader, political force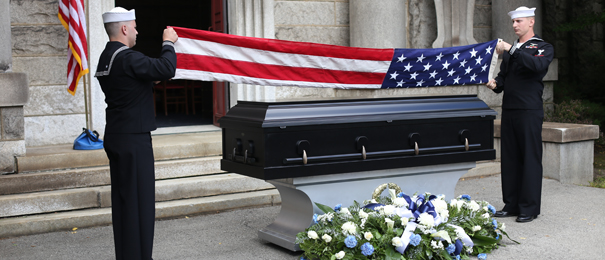 ---
By DAVID SKOLNICK
skolnick@vindy.com
YOUNGSTOWN
Sen. Harry Meshel Funeral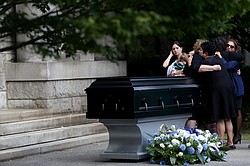 Gallery
Friends and family remembered former state Sen. Harry Meshel at his funeral as a selfless elected official who did great things for the Mahoning Valley.
The Saturday funeral for Meshel, who died Monday at 93, was at St. Nicholas Greek Orthodox Church on North Walnut Street.
"He was a legendary public servant for the Mahoning Valley," said former state Sen. Capri Cafaro, a Liberty Democrat. "He mentored generations of elected officials in our community,
including myself."
Cafaro said Meshel "had a lasting and positive impact on the area, particularly at his alma mater Youngstown State University. He's earned his place in the history of the state. He was a true public servant."
Meshel was one of the Valley's most accomplished politicians.
With a seat in the Ohio Senate open, Meshel won a seven-
person Democratic primary in 1970 for the job, and then the general election.
He spent more than 22 years in the Ohio Senate, most of it in leadership, including president for two years, minority leader for eight years, assistant president pro tem for four years and chairman of the powerful finance committee for eight years.
He resigned from the Senate in 1993 to serve as state Democratic party chairman for nearly two years.
"There's probably no one who's done more for Youngstown in the political world than Harry Meshel," said state Sen. Joe Schiavoni of Boardman, D-33rd. "Harry was one of the most authentic, original people you'd want to meet. He didn't really care what people thought about him. He just cared about what he could do to make other
people's lives better."
Calling him a mentor, Schiavoni said Meshel "never lectured me about politics. It was more about life, and we would have a lot of conversations about life and how to treat people. I'll miss him a lot."
Among Meshel's accomplishments in the Ohio Senate were:
Obtaining $150 million in state funding for YSU.
Assisting in the establishment of the Northeast Ohio Medical University in Rootstown.
Helping establish business incubators.
Creating collective-bargaining laws for public employees.
Obtaining $160 million in grants and loans for economic development projects in the area.
Helping create a state infrastructure program for local roads, bridges, sewer and water improvements.
"There's so many things people can learn from Harry every single day," Schiavoni said. "If everyone takes a little bit from what they've learned from him, we'd all be better. I'm glad I was able to be part of his life and I was able to learn from him in so many different ways."
Schiavoni, who is running for governor in 2018, said he never got to see the Valley during the glory days of the steel mills.
"But Harry would always talk about trying to invest in this community to rebuild it," Schiavoni said. "That's why he had ideas about innovation and technical centers at YSU. That's why he was trying to rebuild and retool the Valley so we could transition. Harry was upset he wasn't able to see this transition and see this new Youngstown that's starting to take shape. If I can do anything to somewhat carry the torch for him, I'm going to do that, and all of us should try to do that."
Bruce Zoldan, head of B.J. Alan Co., which operates Phantom Fireworks, said his retail fireworks business would have never started without the support of Meshel, who was Zoldan's professor at YSU when the student was selling fireworks out of the trunk of his car.
"Harry asked, 'Is it something you love doing?'" Zoldan said. "He told me to not think of it as a way to pay my way through college, but as a career. He told me, 'You have to work hard at what you believe in and what you love to do.' We talked about the laws and he said, 'I'm going to help you anyway I can.' He helped me not just as a professor, but more like a father, like a brother. We established a great friendship. I'm sure there are many people in our community that Harry touched."
Stanley J. Aronoff, a Republican from the Cincinnati area who served with Meshel in the state Senate – and like Meshel, was the legislative body's president – said, "We lost one of Ohio's greatest."
Aronoff wasn't at the funeral, but sent a statement to The Vindicator.
"Although we disagreed on almost everything politically, I regard Harry Meshel as a dear friend, a spectacular orator and an entertaining colleague," Aronoff said. "He was of the highest character and his word was his bond. From 9 to 5, he was a bombastic opponent of the Republican caucus, a tireless advocate for his Senate district and for his caucus. But when his work ended for the day, he was one of the most enjoyable people I'd known."
In honor of Meshel, Gov. John Kasich ordered all American and Ohio flags at public buildings in Mahoning County and at the Ohio Statehouse be flown at half-staff Saturday.
More like this from vindy.com