Mitchell takes over for Wildcats
Niles vs Struthers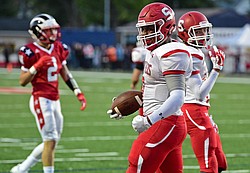 Gallery
Running back helps unbeaten
Struthers pull away from Niles
By Steve ruman
NILES
For nearly two quarters of play, Friday's All American Conference (White Tier) game between Struthers and Niles had all the makings of a nail-biter-til-the-end contest typical when the two teams meet.
Enter Willie Mitchell!
The Struthers junior made two big plays — on just before halftime, and one to start the third quarter — and the Wildcats never looked back in a 41-23 road win at Bo Rein Stadium.
Photo Gallery: Niles vs Struthers
With the win, Struthers (3-0) stretches its regular-season winning streak to 10 games, dating back to Sept. 9 of last year when it lost to Niles.
The Red Dragons fall to 0-3.
Mitchell broke loose for a 33-yard run with 24 seconds left in the first half, setting up his own five-yard touchdown run to give Struthers a 22-10 lead at intermission.
Then on the first play from scrimmage in the third quarter, Mitchell escaped several tackles at the line of scrimmage, broke to his right and raced 61 yards down the sidelines to extend the Wildcats' lead to 28-10.
Mitchell finished the night with four rushing touchdowns and 213 yards on 19 carries.
Jordan Soda paced the Niles offense. The senior quarterback completed 23 of 34 passes for 307 yards. Jason Johns (141 receiving yards), Nate Fowler and Trent Johnson all had seven receptions for the Red Dragons.
"This was super big, this was like a Super Bowl for us because we had last year's loss to Niles in the back of our minds," Mitchell said. "Things were really close there in the first half, but we made the plays when we had to, then our line just took over and took control in the second half."
Niles was its own worst enemy in the first half. The Red Dragons fumbled on their own 31, setting up Struthers' first score — a Nick Adams four-yard run.
The Dragons marched 54 yards on 11 plays on their next possession, and advanced to the Struthers one-yard-line before fumbling the ball out of the end zone.
Mitchell's 33-yard run just before halftime ended with late hit and unsportsmanlike conduct penalties on the Dragons.
Struthers didn't commit a turnover.
"When you take care of the ball and play good defense, you win a lot of games," said Wildcats coach Curt Kuntz. "We stressed the importance of hanging onto the ball, because you don't want to give an offense like Niles extra possessions."
After Adams scored to give Struthers an 8-0 lead, Soda and Johns hooked up for a 95-yard touchdown pass to cut the Wildcats lead to 8-7.
Struthers extended its lead to 14-7 with a Mitchell five-yard run midway through the second quarter. Niles cut its deficit to 14-10 with just 1:16 left in the first half, but that's when Mitchell took over.
"We noticed that [Niles] had just one linebacker in the middle and some edge pressure so we just gave Willie the ball and asked him to do his thing," Kuntz said of Mitchell's run before half. "We figured the odds were better than trying to go outside where they had extra guys."
Kuntz was pleased that his team was able to distant itself from Niles in the second half.
"We have some depth this year, we want to be a second half team," Kuntz said. "We want to score the first time we get the ball and set the tone for the second half."
HALL OF FAME INDUCTION
Prior to the game, the late Pete Mollica was inducted into the Niles McKinley High School Hall of Fame. Mollica was a longtime sportswriter with The Vindicator.
Mollica graduated from Niles in 1962, and played football and baseball for the Red Dragons. He was a starter for the Dragons' 1961 state championship football squad.
More like this from vindy.com