Renowned Taiwanese chefs visit Valley as part of 5-city U.S. tour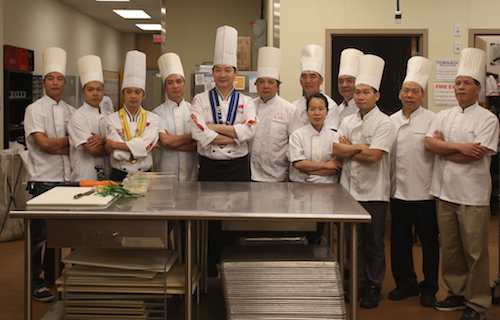 ---
CANFIELD
Chi-wen Chen and Ching-Long Huang, renowned chefs from Taiwan, have traveled the world to share their culinary skills.
Their acclaim has brought them to U.S. cities such as Chicago and New York City, recently to New Zealand, and now to Youngstown.
The two chefs are in town this week for a cultural exchange sponsored by the Youngstown/Warren Regional Chamber and the Chinese Association of Greater Youngstown Area. The stop is part of their 2017 Tour of Taiwan Gourmet Cuisines.
During their time here, the chefs led a class at the Mahoning County Career & Technical Center, taught chefs from local Chinese restaurants, and today will serve dinner at The Bistro at MCC&TC to dozens of people from the community (the event is full).
"We are very lucky to have them come here," said Florence Wang, who helped get the chefs here. Wang, originally from Taiwan, serves as director of Asian market for the chamber. Wang noted that this marks the chefs' first time in Ohio – "and they chose Youngstown."
On Wednesday, Chen and Huang taught a class with junior and senior students in MCC&TC's culinary-arts program.
"They loved it," said culinary arts instructor Matt Putzier.
He said the students learned a Chinese version of chicken nuggets – deep-fried chicken cooked with garlic and green onions.
"It was kind of cool that they made it relatable to the students," said Putzier.
Thursday, the chefs led a master cooking class that several chefs at local Chinese restaurants attended. Chefs from China Garden in Struthers, Fortune Garden in Youngstown, Main Moon in Hubbard and Boardman, Shang Hai River in Boardman, Pho Saigon in Boardman and Royal Grill Buffet in Boardman participated.
Chen and Huang made dumplings and a chicken dish. Huang also demonstrated his skill with a kitchen knife, artfully turning carrots into butterfly-shaped garnishes.
"I want the quality of the Chinese cuisine to make steps forward," said Wang of what she hoped the community gets from the exchange. "We are more isolated in a smaller community."
Wang said, too, that she sees the exchange as part of a broader effort to attract Taiwanese investment in the area.
"We are hoping to attract the investors from Taiwan," she said. "We need the jobs. ... We are trying to sell Youngstown, Ohio."
Huang, translated by Wang, said his impression of Youngstown was that, "The people are friendly, and the community is peaceful."
He said that he hoped to teach people in the community the art of Taiwanese cooking, specifically how to make sauces in a healthy way.
Chen and Huang are trilingual, but do not speak English, Wang said.
Despite the language barrier, everyone involved seemed to be making connections.
"The commonality was still food," said Putzier. "As cliche as it sounds, I told the students, 'We all speak the same language when it comes to food.'"
More like this from vindy.com