Junior Mark Waid has Girard off to strong start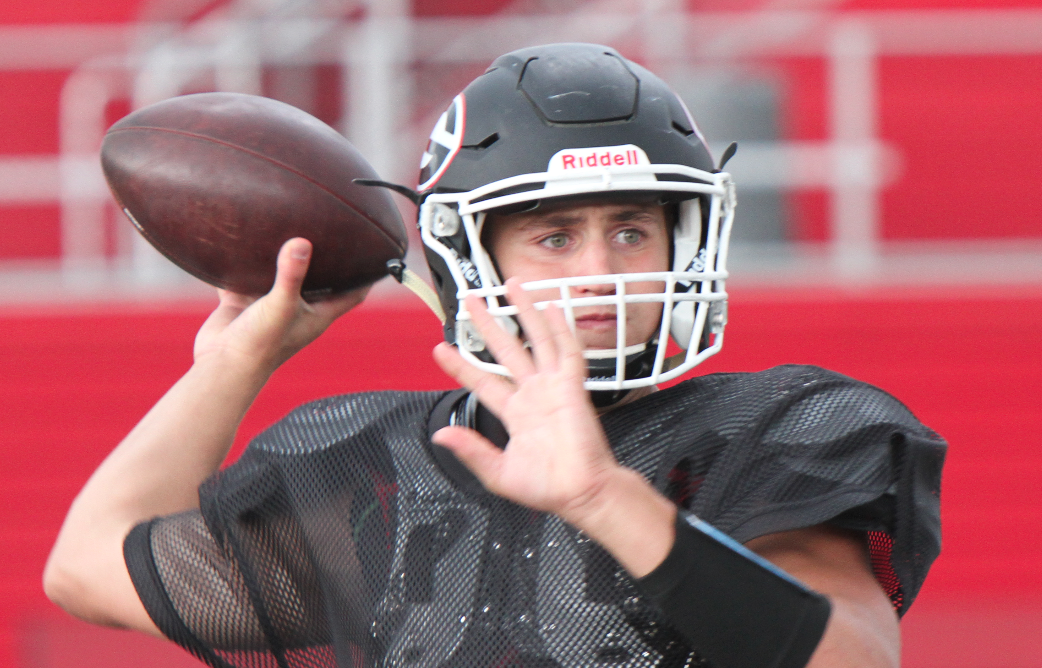 ---
By Steve Ruman
GIRARD
Mark Waid vividly remembers the first play of his high school career.
It was the opening night of the 2015 season, and Waid — a freshman — was taking snaps under center as Girard's quarterback against backyard rival Niles.
"First play from scrimmage, I got hit pretty hard," Waid said. "I got tackled by a bunch of Niles players, and they're yelling at me, 'fresh meat, fresh meat.' That was my introduction to high school football."
Despite the rocky start, Waid threw for 253 yards and two touchdowns that night, and also rushed for 79 yards and a pair of TDs. By the end of the season, Waid racked up 1,152 yards through the air, and another 394 yards on the ground.
As a sophomore, Waid completed 139-of-251 passes for 2,624 yards and 22 touchdowns while rushing for 725 yards and 16 TDs.
Just one thing was missing from Waid's impressive resume.
"We didn't win enough games for me to consider the last two years a success," Waid said. "That's the bottom line, team success. If my numbers go way down and we win a lot more games, then I would be able to say it was a good year."
"It's all about me and my brothers. We really are a brotherhood. It's about us succeeding as a group. We win as one, we lose as one."
Now a junior, Waid and his "brothers" have the look of seasoned veterans. And, that resume is starting to shape us as though it would get Waid's approval.
For the first time since 2011, Girard is off to a 2-0 start. The Indians opened up the season with a 47-24 win over backyard rival Niles. They followed that up with a 39-28 triumph over nemesis Hubbard, a team they hadn't beaten in six years.
"For awhile there, it was almost as though we were learning how to lose," Waid said. "We always seemed to fall short no matter what we did. But the thing was, we never lost faith in each other and we never lost trust in our coaching staff."
"It was just the opposite. Losing can really split some teams. It brought ours closer together."
Following a playoff year in 2014 which saw Girard post an 8-3 record, the Indians hit hard times in 2015, finishing 2-8. A year ago, there were five straight losses to start the season, but they then won three of their final five games.
The momentum carried into the weight room, through off-season workouts, and into summer camp.
In the season-opener against Niles, the Indians and Red Dragons traded touchdowns for the first 16 minutes of play, then Girard went on a 33-10 scoring binge to put the game away.
Against Hubbard, Girard raced out to a 25-6 first-quarter lead, only to find itself trailing by three entering the fourth quarter. However, a 14-0 spurt in favor of the Indians sealed win number two.
"Those are the types of games we were in but lost the last two years," Girard coach Pat Pearson said. "It's been a rough couple of years, we've talked about this over and over, and we're done talking about it. We've learned from the past, and we've put it behind us."
While last year's overall record may have given the appearance of an unsuccessful season, Pearson points to the strong showing in the second half of the season, and says the never-quit attitude was an indication of things to come.
"You know, we were 0-5 and these guys, they went out and practiced like they were getting ready for the Super Bowl," Pearson said. "I remember saying to my coaches, 'we're going to be alright, this is a special group.'
"We were in all five of those games against some really good competition. Then this past off-season, I've never in 16 years of coaching been around a group that was so committed and dedicated. From December on, the work ethic has been unreal."
Girard's roster includes 16 players who already have earned two varsity letters. Among them are a group of seniors who dressed as freshmen on that last playoff-qualifying team.
"Those players gained a great deal of appreciation for what Girard Indians football means to this community," Pearson said. "They have carried that feeling with them for the past three years. It has bonded them, and it has inspired them to bring that winning tradition back to this town."
"They want to write their own history."
Pearson said that the first two chapters of the '17 season include many contributors. A defense which in recent years has seen its share of struggles has stepped up at key times.
"The guys on that side of the ball have come around collectively as a unit, they want to take ownership and be a difference-maker this year," Pearson said.
An experienced offensive line includes; Anthony Pratt, Haeden Gump, Patrick Ledenko, Andrew Mohn, Marcus Caudill and Jack DelGarbino.
"Our guys up front make our offense go," Pearson said. "They are workhorses, they are so vital in what we do. You don't score thirty, forty points a game without a fundamentally sound, talented front line."
And, of course, there is plenty of talent at the skilled positions, beginning with Waid.
In Girard's two wins, Waid has accounted for 11 touchdowns — five passing and six rushing. He has completed 31-of-53 passes for 446 yards while rushing for 326 yards on 36 carries.
"I can tell you emphatically that none of Mark's individual numbers mean anything to him, all he cares about is team success," Pearson said. "His size, his speed, his athletic ability and IQ, that's all visible when he steps on the field. But beyond that, he's grown up from a kid to a man in terms of leadership."
Waid, who says the game has gone "from fast forward to slow motion," since his freshman year, said he is simply following "the Girard way of doing things.
"When I was a freshman, the seniors took me under their wing," Waid said. "They didn't treat me any differently because I was so young, they just treated me like a brother. Same thing last year. It's just how things are done here."
Senior Michael Belcik led the Indians receiving corps last year in receptions (44), receiving yards (980) and touchdowns (11). This year Belcik already has 13 receptions for 239 yards, including an eight reception (181 yards) night against Niles.
"Boy, you talk about a leader," Pearson said. "Here is one of the best receivers in the area if not the state. We talked about using him less on defense so that we could highlight him more on offense. This would only help pad his stats, but he's telling me, 'No disrespect coach, but I'm not coming out, you'll have to drag me off the field.'"
"That's the attitude we're seeing from all of the upperclassmen who have taken their lumps. They are not only stepping up, they are showing the underclassmen what it takes to move on to that next level."
Like Waid, Belcik insists that leadership is instilled at a young age.
"I remember being on the sidelines as a freshman when we made the playoffs," Belcik said. "Even though I didn't play, those guys made me feel like I fit right in. They wanted to teach me what it takes to carry on the Girard tradition."
As for reaching that next level, Pearson is quick to point out that the Indians still have a long way to go. On Saturday, they will renew one of Trumbull County's most heated rivalries when they visit defending Division VII state champion Warren JFK. Future opponents include All American Conference foes Brookfield, LaBrae and Liberty.
"It's nice to be 2-0, but we haven't accomplished anything just yet, and these guys know it," Pearson said. "The nice thing is, they do realize it. We never had to get them to buy into a one-game-at-a-time mentality. As a whole, this team is just focused on the task at hand."
"They have enjoyed their two wins, but at the same time they quickly move on and focus on what's next."
DelGarbino said he believes such an approach will eventually lead the Indians to their ultimate goal.
"We want a league title and we want to get back to the playoffs," the junior said. "When we were losing last year, I remember how we kept putting the losses behind us and we insisted that we focus on just the next opponent. That mindset paid off."
"Same thing this year. It's nice to win two, but they don't mean anything if we don't take care of business this week or next week. We have to stay on track."
Girard and Warren JFK meet Saturday at Mollenkopf Stadium. A week later, the Indians begin league play with a home game against Champion.
More like this from vindy.com