KSU Trumbull officials unveil special flag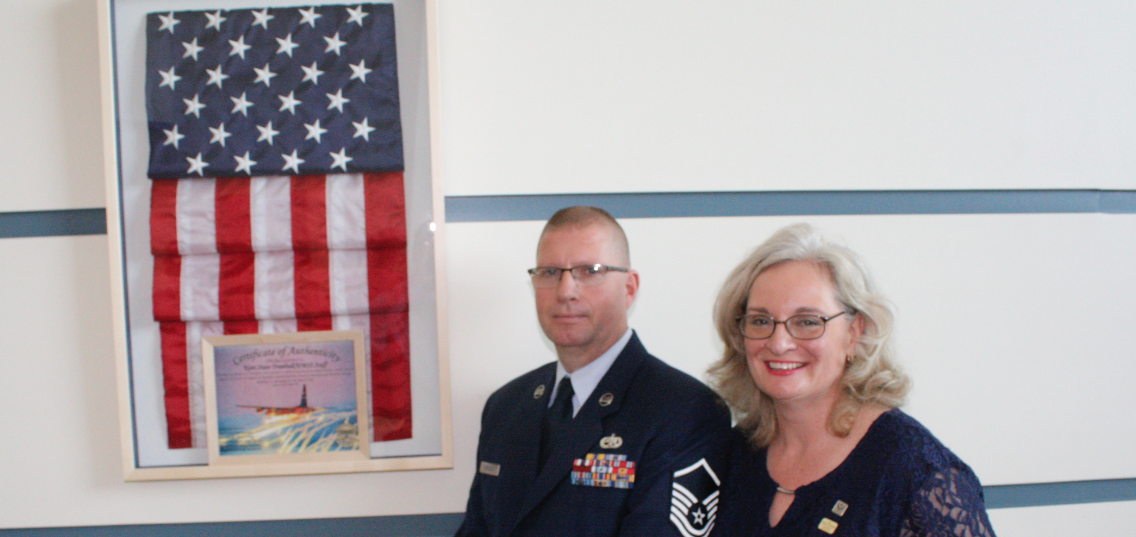 ---
By Ed Runyan
CHAMPION
This time last year was difficult for Maribeth Eckenrode, a financial-aid specialist at Kent State University at Trumbull.
Her husband, Master Sgt. Troy Eckenrode, an Air Force Reservist with the 910th Airlift Wing of the Youngstown Air Reserve Station in Vienna, was on a military deployment.
For Maribeth, it meant constant worry and marking a wedding anniversary, birthday, Thanksgiving, Christmas and New Year's without her husband at home.
And it meant managing everything on "the home front," such as fallen trees, flooded basements, lawn care and snow removal.
Through it all, Maribeth's co-workers in the Enrollment Management and Student Services department "were ready to support me," she said.
It's a military tradition to fly a flag for special people to recognize their support, she explained.
So when she and Troy discussed who she would like an American flag flown for, "there was no doubt that the staff at EMSS would receive one," she said.
At a ceremony Wednesday, university officials unveiled an American flag recently mounted on a huge wall in the EMSS Department that flew in a C-130 on Nov. 5, 2016, during a combat mission against ISIS forces in support of Operation Inherent Resolve.
The mission involved carrying wounded servicemen and women to get medical help, what is known as a "bandage flight."
"My Kent State University at Trumbull EMSS co-workers were my bandage flight," Maribeth said.
The decision was made to mount the flag in the lobby of the building instead of in her co-workers' office to show the military and veteran community that the university supports them just as the staff "have done for me," Maribeth said.
Dr. Lance Grahn, dean of the campus, said the flag will permanently demonstrate the friendship Maribeth and her co-workers share, "their support for each other and the teamwork that they demonstrate day in and day out."
He said it's also a demonstration of the campus' commitment to students and military personnel.
He said Air Force values, Kent State values and American values are the same – integrity first, service before self and excellence in all that we do, Grahn said.
More like this from vindy.com