Brewtus' beer, food well worth the drive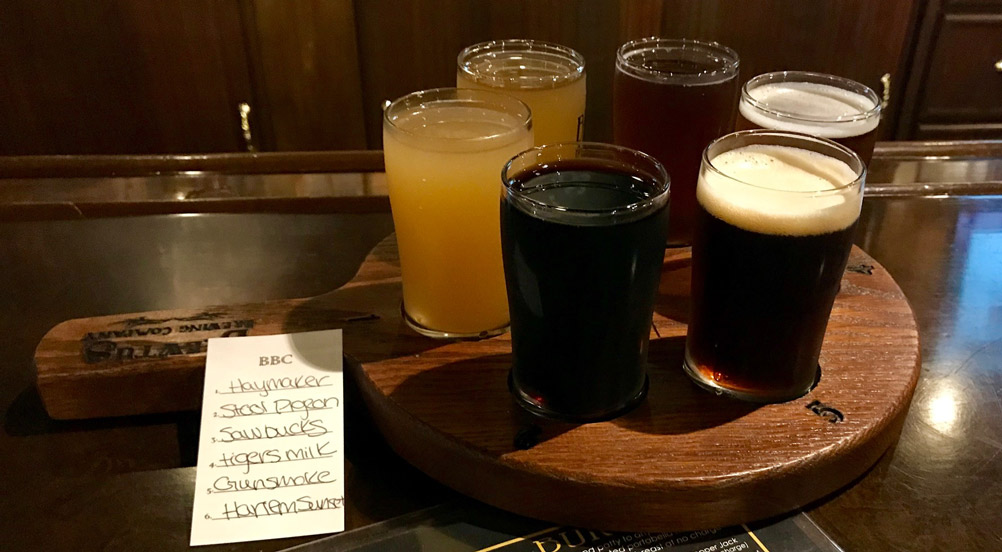 ---
If You Go...
What: Brewtus Brewing Co.
Where: 23 Chestnut Ave., Sharon, Pa.
Info: www.brewtusbrewing.com
Hours: Tue.-Thu.: 11 a.m. to 10 p.m.; Fri.-Sat.: 11 a.m. to midnight; Sun.: 11 a.m. to 7 p.m.
Available for purchase: Flights, pints, growlers, handcrafted sandwiches and burgers.
By Jim Cyphert
Mahoning Valley Flight Crew
Craft-beer lovers in the region have what feels like a seemingly endless list of new locations at which to partake.
One terrific place to have a quality cold one is Brewtus Brewing Co. in Sharon, Pa., an early arriver in this wave of regional brewery activity.
After last week's mission, Mahoning Valley Flight Crew members were pleased with what was discovered after touching down at Brewtus.
When you walk inside, you get the vibe of a true Prohibition-era saloon. Many of Brewtus' beers are even named after slang terms from the era – Gunsmoked, Sawbucks and Stool Pigeon, to name a few.
Co-owner Jason Camerlengo and his staff, Samantha Fetterman and Zoe Roman, took great care of the crew – from arrival through departure. From flights of beers to delicious burgers (such as the Hangover and the Brew Burger) to a tour of brewery operations, we were never left wanting more.
Brewtus operates a seven-barrel brewing system, and will have served about 30 different beers by the end of 2017. Seven Brewtus brews and a handful of guest beers and ciders were on tap.
Jason and his uncle, John LaRocca, opened the brewery in 2015, but the Brewtus name has existed since 2012 (it stems from a Brutus-10-style brewing system instrumental in the decision to open the brewery).
Camerlengo began brewing on his stovetop in 2005 as a "poor college student" with a love of quality craft beer. After teaming up with LaRocca and brewing dozens of styles of beers, both knew it was time to go into business.
Camerlengo says it's the quality of beers and the variety of food options that make Brewtus stand out.
"We don't spare time or expense to make good beer," Camerlengo said. "And, we take pride in our menu. We want people to enjoy our food as much as our beer."
There are expansion plans, but slow and steady growth is on his mind.
"There are local warehouse spaces that could work for a production brewery," he said. "We're looking forward to a day when our beers will be available at bars and restaurants in the Shenango and Mahoning valleys. We're calling that our 10-year plan."
The Mahoning Valley Flight Crew is focused on the here and now. So, here's our nickel on the craft beers that were served up.
Harlem Sunset Oatmeal Stout on Nitro (6.2% ABV, 33 IBU)
Jason Jugenheimer
"This chocolate-hazelnut stout is a nice change of pace from many stouts dusted with hints of coffee on the market. You'll find no bitterness stabbing your palate in this stout, as it perfectly blends with the dark-chocolate malts, roasted malts, cocoa nibs and hazelnut flavors. This one's smooth from start to finish. The woody aroma and creaminess of the nitro tap provide stout lovers with a fantastic beer as we enter the fall, when darker ales begin creeping back as our beers of choice."
Haymaker Kolsch (5.1% ABV, 24 IBU)
Brian Long
"Don't expect the Haymaker beer to knock you out like the punch. You can look forward to an extremely crisp and smooth experience. Haymaker pours and has the appearance of a Hefeweizen, with a cloudy, yellowish-orange tint. This one's flavor is citrusy with some other subtle fruits that I couldn't quite figure out. While Haymaker can be consumed year-round, you can definitively put down a few pints in the warmer weather."
Stool Pigeon Belgian Blonde (6.9% ABV, 23 IBU)
Jim Cyphert
"I'm not going to have to tattle on this beer – it's no secret it's a good one when it passes your lips. You don't want to drink this one ice cold. Let it warm to 'cellar temperature,' or between 50 and 60 degrees, to release its full flavor and body. This combination of pilsner, wheat and aromatic malts and Sterling hops blends nicely to provide a light, fruity and refreshing brew with notes of pear and banana. A great beer!"
Gunsmoked Cherrywood Smoked Brown Ale (6.3% ABV, 45 IBU)
Roger Gillespie
"I saved Gunsmoked Cherrywood Smoked Brown Ale for my last flight sample so I could give this brew my full attention. The aroma was rather subtle, but the flavor delivered a smoky blast similar to an all-day campfire. This beer was very well done. It had great color and great taste."
Tiger Milk Pineapple Belgian Pale Ale (5.9% ABV)
Joe Sanfilippo
"What a unique flavor this pineapple Belgian pale ale has. The Tiger Milk has a nice start with a pineapple flavor and a nice subtle hoppy finish. And you sure do get a nice aroma of pineapple. I recommend giving it a try if you get a chance. You definitely won't be disappointed."
Sawbucks Scottish Style Ale (3.5% ABV)
Dave Shively
"Scottish brewing methods are said to go back some 400 years. Brewtus Brewing Co. has a nice Scottish ale in its craft beer offering called Sawbucks, which as we learned, was a Prohibition slang term for a $10 bill. And while a pint of this won't cost you anywhere near $10, this beer does carry many of the true characteristics of its Scottish Ale ancestry. I found this beer to be a medium-bodied amber ale, which poured clear with a malty profile. Sawbucks was also easy to drink. It had, by far, the lowest ABV content of any of the beers we sampled at 3.5%, a bonus for lovers of Scottish ales.
The Flight Crew's advice: Get over to Brewtus to try outstanding beers and great food. If you're patient, you might just run into some great seasonals such as Heebie Jeebies Pumpkin Spice Ale or Blitzen Christmas Ale.
More like this from vindy.com