---
Tuesday, September 5, 2017
Harry Meshel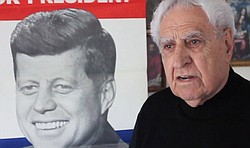 Video
Longtime Youngstown political figure Harry Meshel died today at age 93. Meshel recalls the impact JFK had on him and the country in this 2013 Vindy.com video.
Harry Meshel

Gallery
Photos of Harry Meshel from Vindicator archives.
By KALEA HALL
YOUNGSTOWN
Sen. Joe Schiavoni will never forget the first time he was on The Vindicator's radio show with Harry Meshel.
"He [Meshel] said, to Louie Free, he would stake his reputation on me," Schiavoni said. "I think about that all the time. He meant that and his reputation was really important. I am going to try to live up to that every day of my life."
The man with a reputation of gold died on Labor Day at age 93.
Meshel was one of the Mahoning Valley's most accomplished politicians as both a longtime Democratic leader in the Ohio Senate and the state Democratic Party chairman.
More than that, he was a friend, a man with a lot of pride for who he was and for his city; the town historian who enjoyed a glass of scotch.
"He was a hell of an interesting guy," said Ed O'Neill, a Valley native who stars in the ABC series "Modern Family."
"He knew everything about everyone connected to the town. He was just amazing – really kind of a Youngstown treasure."
O'Neill met Meshel through his late mother, Ruth Ann Quinlan O'Neill, and they stayed connected after Ed left the area.
O'Neill recalled when he last spent time with Meshel at a fundraiser for Hillary Clinton hosted by local businessman Bruce Zoldan at his house. The two spent the night talking.
"I drank red wine, and he drank scotch," O'Neill said. "Whenever I would go to Youngstown, we would always catch up. He knew I wasn't going to move back, but he liked that I stayed in touch with Youngstown. He was always concerned about the well-being of Youngstown."
Meshel, a graduate of East High School, served in World War II in the Naval Construction Battalion ("SeeBees"). He graduated from Youngstown College in 1949.
Meshel got into politics in 1960 by organizing a citizens committee for Democrat John F. Kennedy in Mahoning County that attracted the attention of the eventual president. Meshel often told the story of how he couldn't find a job he liked for a decade after earning a master's degree in 1950 from Columbia University in urban land economics.
"I had a master's degree and couldn't find the right job," he told The Vindicator in June 2014 for an article to commemorate his 90th birthday. "I went into politics to give help to people who were in similar situations."
Meshel's initial attempts at running for elected office were unsuccessful. He lost Democratic primaries for Mahoning County commissioner in 1960 and 1962.
Meshel's break came in late 1963 when Youngstown Mayor-elect Anthony B. Flask selected him to be his administrative assistant when Flask officially took office the following January.
Meshel served in that capacity for more than five years with Flask moving him to director of urban renewal, a job he didn't have for long as the Democratic mayor was defeated in 1969 by Republican Jack Hunter.
With a seat in the Ohio Senate open, Meshel won a seven-person Democratic primary in 1970 for the job, and then the general election.
He spent more than 22 years in the Ohio Senate, most of it in leadership including president for two years, minority leader for eight years, four years as assistant president pro tem, and eight years as chairman of the powerful Finance Committee, a position that was almost on par with Senate president in influence.
He resigned from the Senate in 1993 to serve as state Democratic party chairman for nearly two years.
"I enjoyed doing things for people and doing things that needed to be done," he said during the 2014 interview with The Vindicator. "I chose not to be weak, and it rubbed some people the wrong way. But most people I fought with, I remained friends with them. I enjoyed working with people even with those who I argued."
Meshel, who taught at YSU, told Zoldan when he was a student that he would become a millionaire one day by selling fireworks out of his car.
Zoldan is the owner of Youngstown-based Phantom Fireworks, the leading retailer of consumer fireworks in the U.S.
"It was so good because it was a local business and a local kid without much to start [with] who is now a leader in the nation," Meshel said in a June 2017 Vindicator story.
Meshel saw Zoldan's hard-working spirit and wanted to help the fireworks legislation.
"Without Harry's help back then, the fireworks industry in Ohio would not be what it is today," Zoldan said. "Harry was a great inspiration and teacher to me. He guided me through countless dealings with state and local legislative efforts. I owe so much to him."
Zoldan and Meshel also worked together to bring former football coach Jim Tressel to YSU as the university's next president.
"The thing I remember the most is he was constantly an advocate for our region and our university," Tressel said.
Tressel's father-in-law, the late Frank C. Watson, a YSU advocate, community leader and family man, graduated college with Meshel and died just a month ago. Together, they brought The Rock to Jones Hall. Tressel thinks of them when he walks past the landmark.
"We just lost two of the greatest in a month," Tressel said.
Though slowed by illness in recent months, Meshel was a remarkably feisty nonagenarian almost to the end.
"I don't want to slow down, and I won't until the man upstairs tells me to stop," he told The Vindicator in 2014.
Ray "Boom Boom" Mancini, a Youngstown native and former World Boxing Association lightweight champion, was a teenager when he first came to know Meshel. As a boxing fan, Meshel was always supportive of Mancini's career.
"Harry created the Ohio Boxing Commission," Mancini said. "He's the greatest historian we had. He was always in front of the curve. He was a visionary. I don't know anyone who loved the city more."
U.S. Sen. Sherrod Brown, a Democrat from Cleveland, said every time he talked with Meshel, he learned something.
"I loved Harry Meshel," said Brown. "He understood voters better than perhaps anyone I know."
The executive and central committee of the Mahoning County Democratic Party expressed its deepest condolences over the loss of Meshel.
He was "a true icon for political service," said David Betras, chairman of the Mahoning County Democratic Party. "Perhaps one of the smartest people I've ever encountered in politics. His contributions to the Valley cannot be measured."
Meshel was known as a gentleman who had a sense of humor and a big smile.
"Over the years, I had numerous opportunities to interact with him," said Mark Munroe, chairman of the Mahoning County Republican Party. "In spite of the fact that we were from different political parties, he was a true gentleman."
William Binning, retired chairman of the YSU political science department and friend of Meshel's, recalled going to lunch with Meshel and his phone would ring continuously.
"He was a very generous man," Binning said. "He had a great memory for people."
Binning, who was a political aid to former Ohio Gov. James Rhodes, saw Meshel work with the governor on several projects from the CASTLO Industrial Park in Struthers to rebuilding the dam in Lake Milton.
"He had a greater impact on the Valley than anybody maybe since World War II," Binning said. "The list is endless. He never stopped being a tremendous and positive civic leader, even after he left office."
The late local developer William Cafaro, who started the Niles-based Cafaro Co., worked with Meshel on projects including the Lake Milton dam, Anthony Cafaro Sr., William's son, said.
"My father had great respect and a high level of admiration for Harry, and so did I," Anthony said. "Harry was very intelligent and hard working, but most importantly [he was a] naturally persuasive speaker. Many people had great ideas, but he had the ability to explain the ideas, convince people about them and then implement those ideas."
RELATED LINKS:
From Oct. 2011: Harry Meshel returns home after surgery, health issues
From Nov. 2013: JFK's campaign visits to Valley remembered fondly
From Jun. 2014: At 90, Harry Meshel likely area's most successful politician alive today
From Feb. 2016: Mahoning County senior levy is quality of life initiative, advocates say
Meshel was known as the guy who worked for, cheered on and always remembered the underdog.
"He committed and devoted himself to the little guy," said Robert F. Hagan, who served in the state's House of Representatives from 1986 to 2014.
Both Hagan and Schiavoni called Meshel a mentor.
"It was about helping people through issues and advocating for people who need advocated for," said Schiavoni, of Boardman, D-33rd. "I loved him and I am going to miss him."
Meshel was also a friend and mentor to U.S. Rep. John Boccieri of Poland, D-59th.
"He is a legend in Mahoning Valley politics for what he delivered for the region, from the creation of Lake Milton State Park to critical funding for Youngstown State University, but he will be remembered most for his unrelenting pursuit for workers' rights, veteran benefits and giving a voice to the voiceless," Boccieri said in a statement.
U.S. Rep. Tim Ryan of Howland, D-13th, also called Meshel a mentor.
"His legacy is represented all over Mahoning Valley and Youngstown State University," Ryan said in a Facebook statement. "He will be deeply missed by our community, and all those fortunate enough to know him."
Meshel was known as a storyteller with an encyclopedialike mind and a mesmerizing way of telling the story.
"Harry was one of the most insightful and colorful people I've covered," said longtime Vindicator politics reporter David Skolnick. "He always had a great story to tell and had an encyclopedic knowledge of Valley politics. I will miss him."
Contributors: David Skolnick and Jordyn Grzelewski