UPDATED | Long-time Valley political force Harry Meshel dies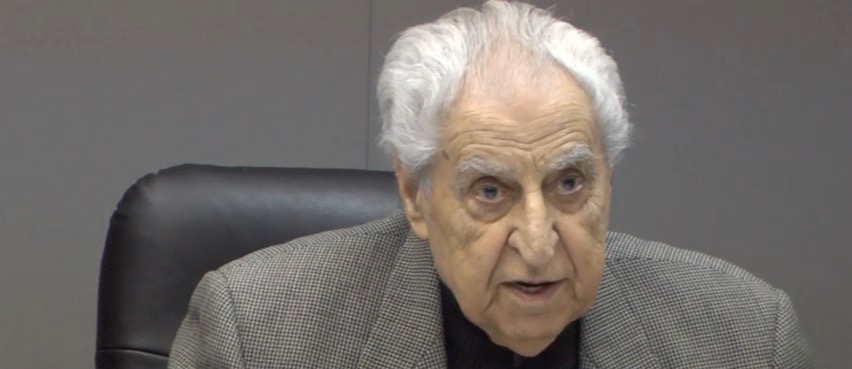 ---
RELATED LINKS:
From Oct. 2011: Harry Meshel returns home after surgery, health issues
From Nov. 2013: JFK's campaign visits to Valley remembered fondly
From Jun. 2014: At 90, Harry Meshel likely area's most successful politician alive today
From Feb. 2016: Mahoning County senior levy is quality of life initiative, advocates say
YOUNGSTOWN — Harry Meshel, a former Ohio Senate president and state Democratic Party chairman, 93, has died after an illness.
Well-known for his colorful stories, sharp wit, and keen memory, Meshel has been widely credited for his civic, cultural and educational contributions to the Youngstown area.
"On behalf of the executive and central committee of the Mahoning County Democratic Party, we express our deepest condolences to Harry Meshel. May his memory be eternal," said Mahoning County Democratic Party Chairman David Betras. "Harry was of the greatest generation. A World War II vet.
Betras called Meshel, "a true icon for political service."
Ed O'Neill, a Mahoning Valley native and star of the ABC series "Modern Family," said his family was very close with Meshel.
"He also was a very knowledgeable guy about the area," O'Neill said. "He knew for example how many Irish were in Youngstown and where they came from and why they were. He knew everything about everyone connected to the town. He is like a local treasure.
"Everything he did was for the betterment of Youngstown," O'Neill said.
"I loved Harry Meshel," said U.S. Sen. Sherrod Brown, a Democrat from Cleveland. "He understood voters better than perhaps anyone I know."
However, Meshel's initial attempts at running for elected office were unsuccessful. He lost Democratic primaries for Mahoning County commissioner in 1960 and 1962.
Meshel's break came in late 1963 when Youngstown Mayor-elect Anthony B. Flask selected him to be his administrative assistant, effective January 1964 when Flask officially took office. Meshel served in that capacity for more than five years.
With a seat in the Ohio Senate open, Meshel won a seven-person Democratic primary in 1970 for the job, and then the general election.
He spent more than 22 years in the Ohio Senate, most of it in leadership including president for two years.
He resigned from the Senate in 1993 to serve as state Democratic party chairman for nearly two years.
"Perhaps one of the smartest people I've ever encountered in politics, his contributions to the Mahoning Valley cannot be measured," Betras said. His contributions to the Mahoning Valley will long, long, long be remembered."
In a storied political career, Meshel met generations of political leaders, including President John F. Kennedy and President Lyndon B. Johnson.
He went on to serve a nine-year-term as a trustee on the board of Youngstown State University.
"Harry was one of the most insightful and colorful people I've covered," said long-time Vindicator Politics Reporter David Skolnick. "He always had a great story to tell and had an encyclopedic knowledge of Valley politics. I will miss him."
Ray "Boom Boom" Mancini, a Youngstown native and former World Boxing Association lightweight champion, knew Meshel since he was a teenager. Meshel, a boxing fan, was always supportive of Mancini's career.
"Harry created the Ohio Boxing Commission," Mancini said. "He was always in front of the curve. He was a visionary. I don't know anyone who loved the city more."
Business leaders are also honoring Meshel.
"Harry personally helped Phantom Fireworks and my family at the infancy of the fireworks industry in Ohio," said Bruce Zoldan of Phantom. "Without Harry's help back then, the fireworks industry in Ohio would not be what it is today."
Zoldan called Meshel "a special person" in his life.
He was "a true friend, as well as a Brother figure and a father figure," Zoldan said.
Watch Vindy.com for updates and see Tuesday's Vindicator for the complete story.
More like this from vindy.com